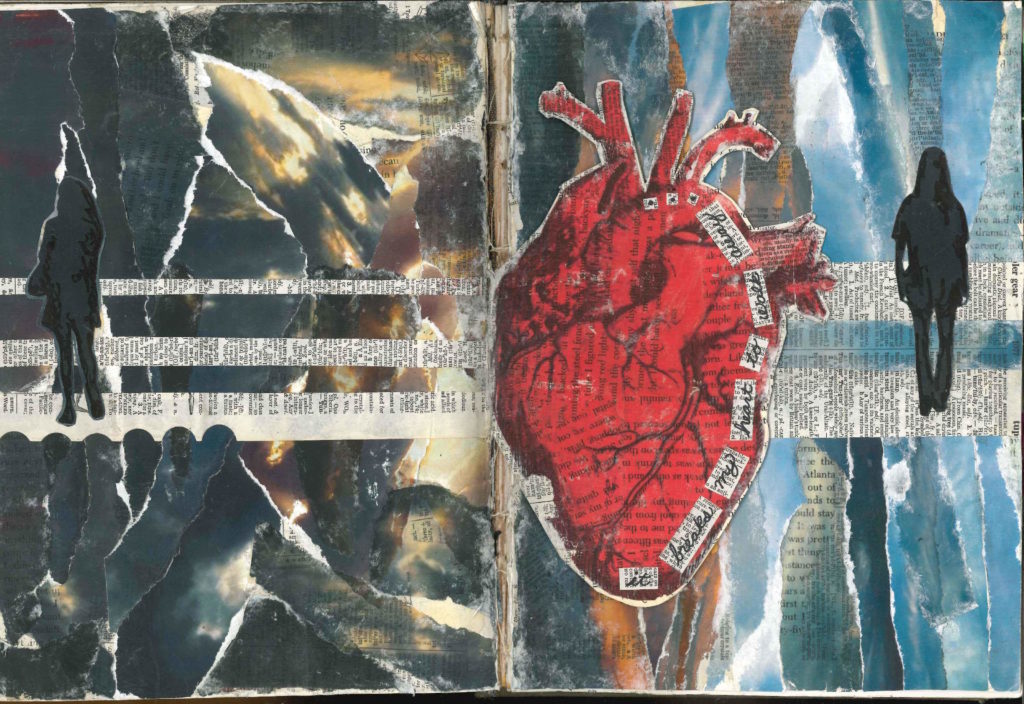 Check out how I created a mod podge image transfer and used them to create a unique visual journal page.
THE FULL HEART STORY
This visual journal page was created back in 2012 I was at a school I knew was a short-term situation. After a single year, I felt too exhausted to stick it out, but somehow I pushed through an additional two years. My 35 students per class, nonexistent art budget, low administrative support, and the requirements I had to meet outside of the classroom were becoming a daunting tower of reasons I needed to find a way out.
However, despite all the marks against my school and against my job, there was one thing that kept tugging at me to stay. My kiddos. At a school like this it's more difficult to be recognized as an employee, but it's easy to be recognized by those who matter most, the students.
I had students who were incredibly difficult. Those relationships wore on me as much as the other ticks against the job. But, the students I connected with went deeper than any student relationships I have made at my current job. These students needed me. They needed my insight, outlook, experience, art tips, and life tips. They came from a variety of backgrounds from low-income to upper-class, two-parent to no-parent homes. I had to balance a huge range of needs, it was challenging, but it fulfilled me.
My current job comes with a big pile of plush. I have a well-padded art budget, small class sizes, administrative support, and very well-behaved students. But I am not needed here. I could walk out of my classroom at any moment and these kids would have ten other teachers more capable and caring than me to take my place. When I walked out of my last job my students didn't have that. They were left with teachers in the same situation as me: worn out, worn down. Or they were left with teachers only working for their paycheck, unable to be fired despite poor job performance, and watching the clock until retirement. I was heartbroken because I felt like I was failing them.
Leaving that school meant I left a huge unknown. I didn't know who would take my place, I didn't know if they would have support. It felt like I was abandoning them, letting them down. I felt so much guilt that I couldn't fess up to my job change until the last days of school, and I only informed those who I felt closest to.
I snuck out of that job with my tail between my legs, but the sense of relief I felt driving off campus on the final day is indescribable. For the first time in three years, I had hope, aspirations, and excitement for what would come at the end of summer.
THE BROKEN HEART STORY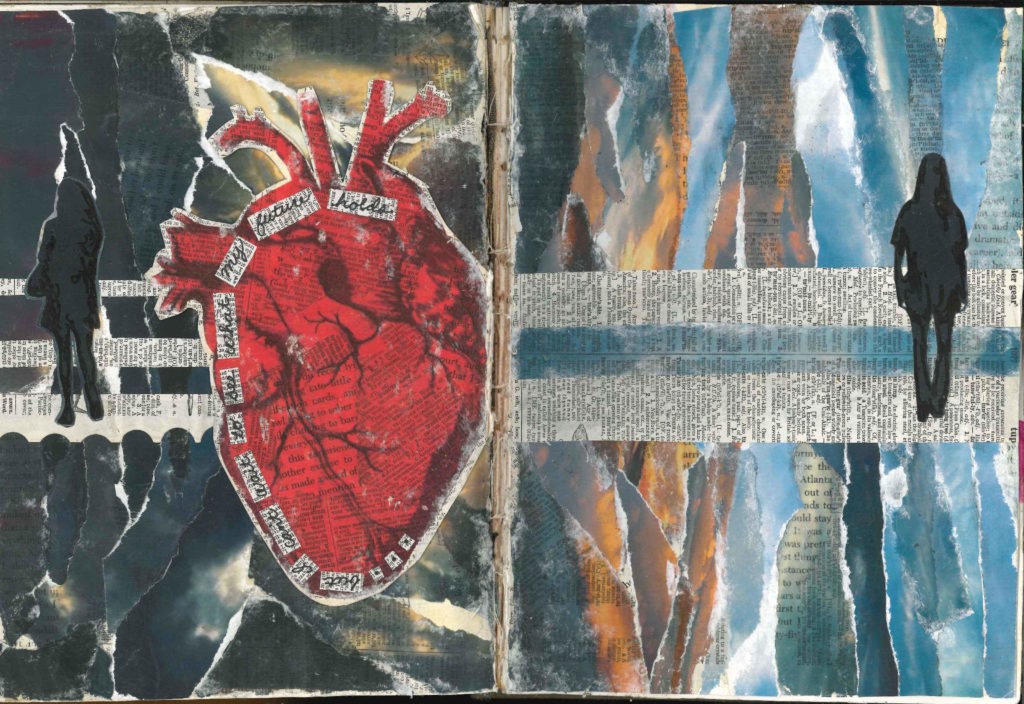 "It breaks my heart to walk away… but I can't wait to see what my future holds."
This visual journal page was created in my last days at my first job. It was my way to processing my emotions, to face the fact that yes I was sad and that was okay but I was also thrilled about what was next, which was also okay.
I have been at my current school, my second job in the adult world, for going on eight years. This job comes with its own set of challenges. I am tapped on the shoulder to take on tasks often, I wear ten different hats other than a teacher on any given day, and I have very high expectations from my students, parents, peers, and administration. I have never worked harder in my life in the last eight years. But the huge difference is how I feel at the end of every day. I do not go home exhausted or morally torn apart or emotionally worn down. Every morning I wake up ready to go to work and start my day. I don't dread Mondays, the end of breaks. I look forward to the start of every school year.
The moral of the story is that we have to show up for our students. I wish I was able to show up every day for my kiddos at my last job, but the job didn't allow me to. Although I am far down the totem pole if you stack up the faculty at my current school, I am a better teacher to my students because I am taking care of myself. You have to take care of yourself.
SUPPLIES
Visual journal
Printed images
Paint brush
Book pages
Thin Sharpie
HOW TO
To create this visual journal page I primarily used printed images. I wanted the yin/yang of my emotions at the time to be the focus of the page. Looking online I found a range of skies, from dark to light, and printed them out. I also knew I wanted a silhouette representation of me on both sides of the story, preparing to leave and my new beginning. After finding these and printing them out, I began laying out the spread.
I ripped the printed sky into strips and positioned them on the page. Once I cut out the silhouettes I played around with placement, but felt like the spread was lacking a focal point. After some brainstorming, I decided to include a heart to add a pop of color, a focal point, and provide another visual for the way I was feeling.
After finding a heart image and printing it I created a Mod Podge transfer on a separate sheet of paper that I had collaged ripped-up book pages on. Mod Podge transfers create a semi-transparent image and they are much more interesting to look at if they have something behind in the image.
MOD PODGE IMAGE TRANSFER HOW TO
Paint a coat of Mod Podge onto your image and let it dry.
Paint another coat of Mod Podge on your image and let it dry.
Paint a third coat of Mod Podge on your image and while it's wet place it face down onto the surface you are transferring it to.
Let it dry.
Once the Mod Podge is try, wet the back of the paper. Once the water soaks in, carefully rub the paper until it starts peeling off.
Continue to rub the paper off until you can clearly see the image you transferred.
Let the image dry and check to see if you need to re-wet and rub off paper in any other areas.
REMINDER: You are creating a mirror image, any area with text will show up in reverse. To avoid that flip the image before you print.
I then printed a second heart image, in reverse, to create two sides of the heart. After finishing a Mod Podge transfer of the second heart I glued them to either side of a book page still attached to the binding of my book. I then cut the heart out, added pieces of book pages to create a space to write words, and wrote the words on top.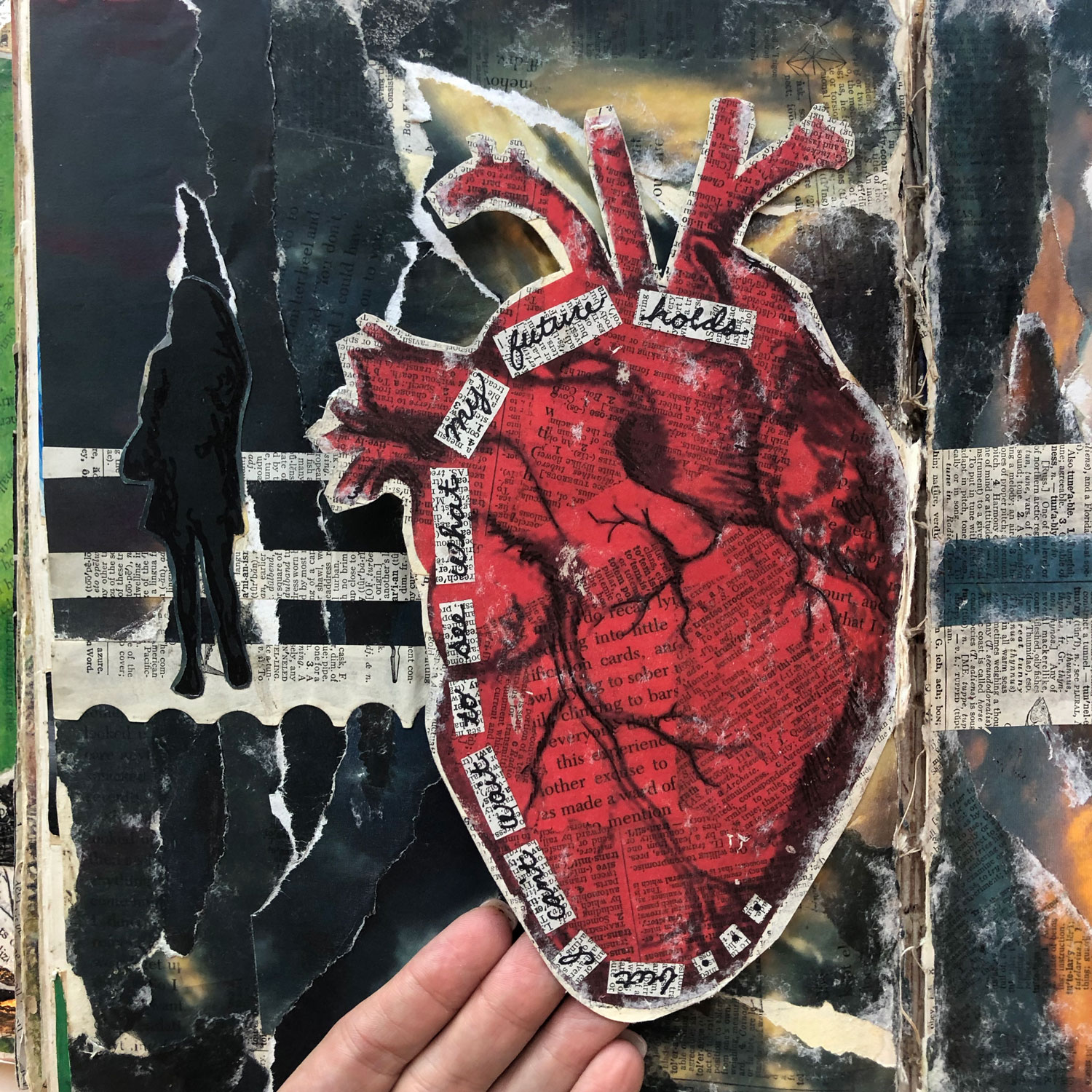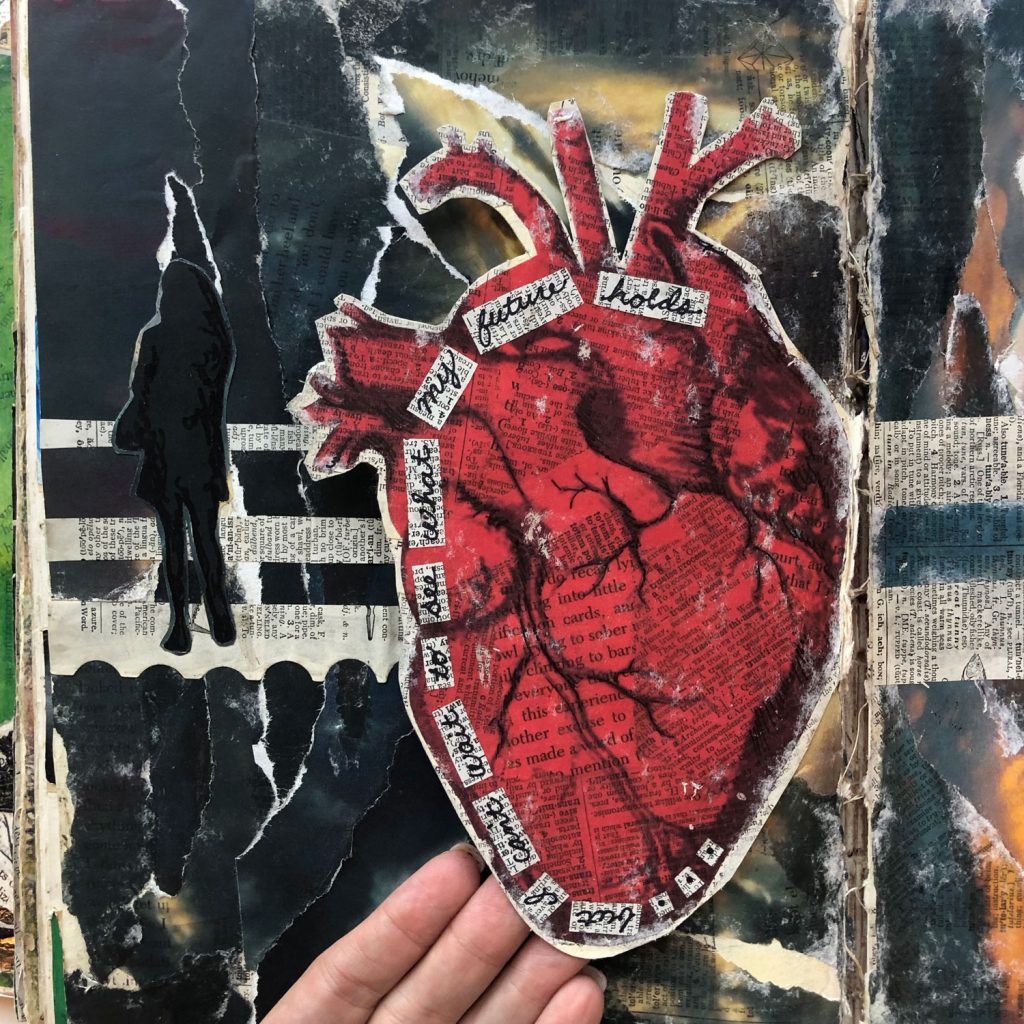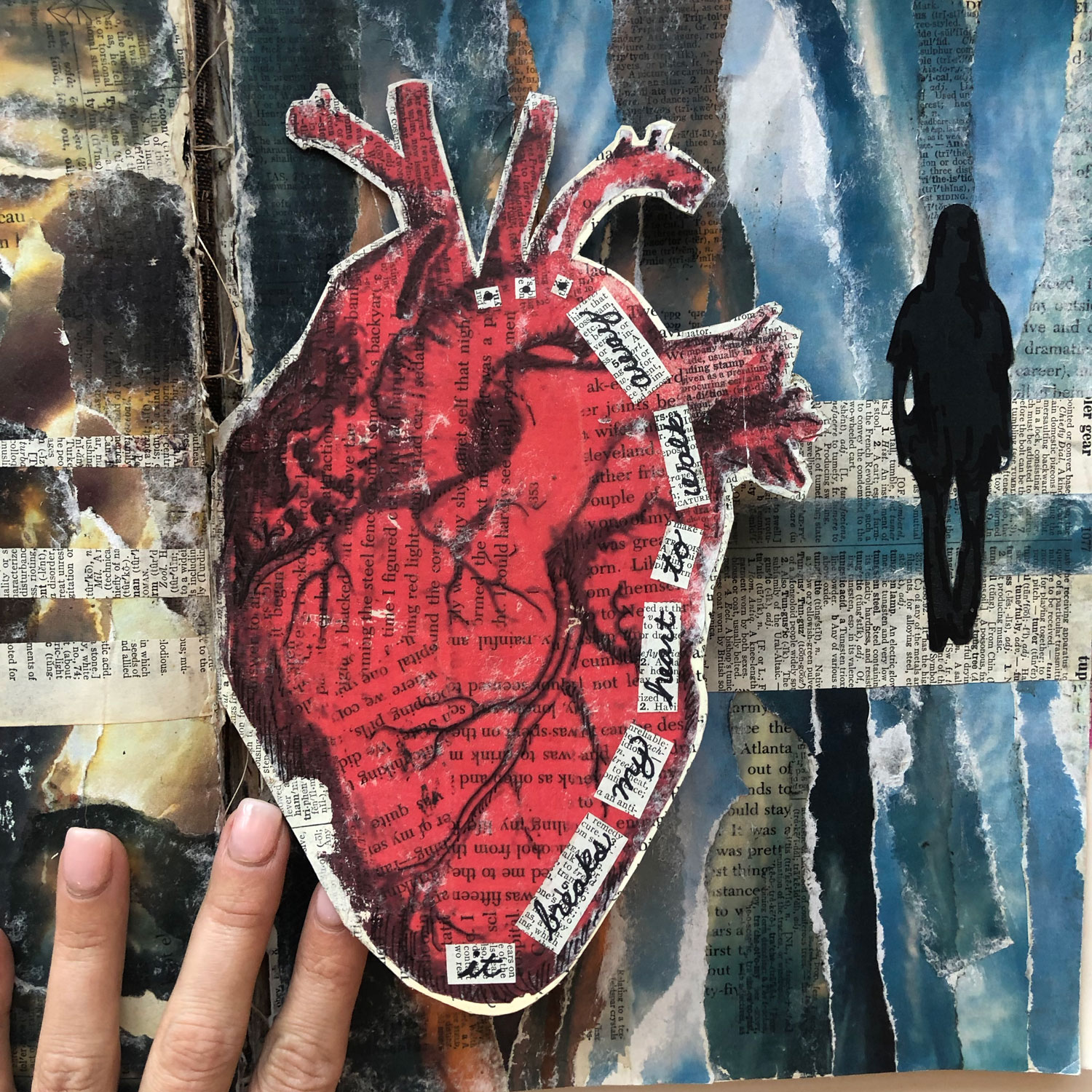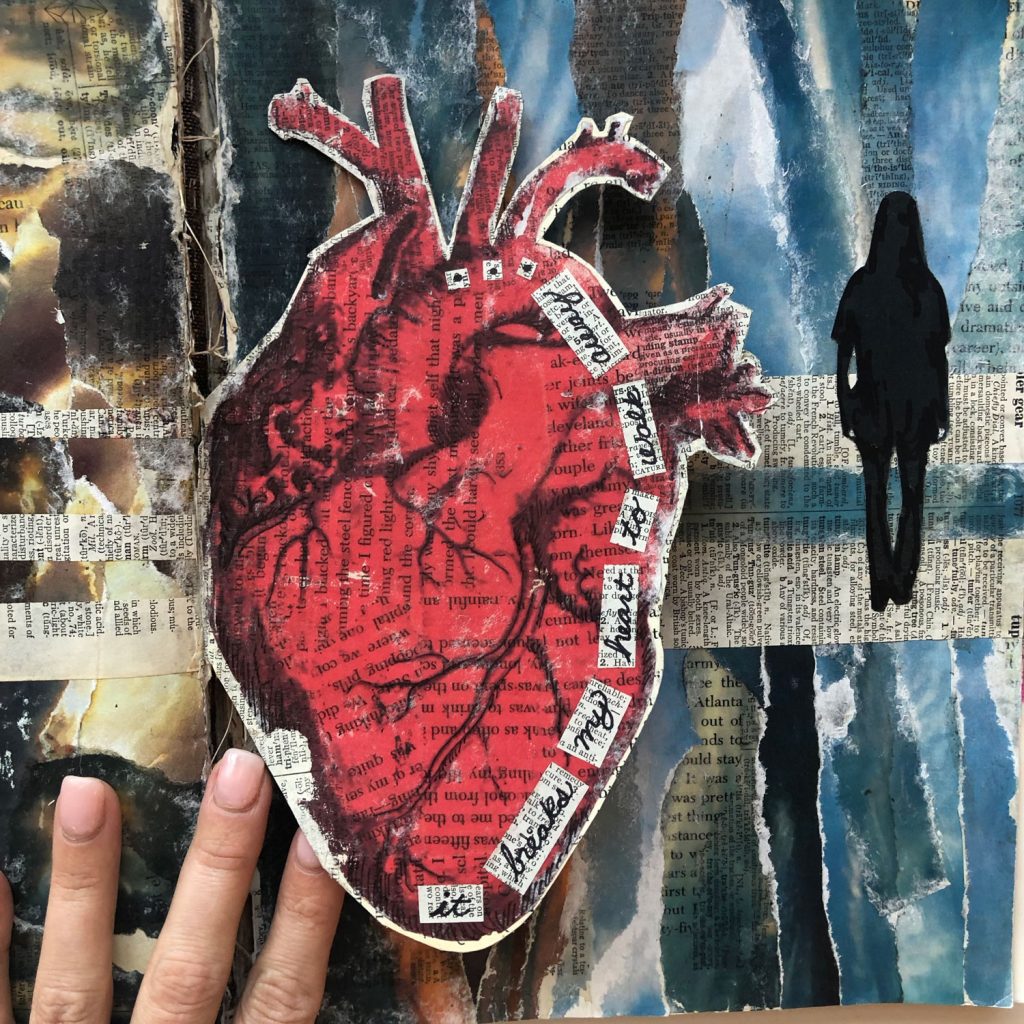 I loved the look of the Mod Podge transfer of the heart, so I decided to create Mod Podge transfers of the entire background. Once I finished with each strip of sky, I glued it down. I then added a ripped-out encyclopedia page to the center of each page in my visual journal and layered another strip of sky on top.
Last but not least I added silhouettes to each page.
CHALLENGE
Cut a shape out of a page still attached to your book binding to add an extra element to your visual journal spread. Try focusing on a moment when you felt pulled in different directions.
Interested in learning more about visual journaling or introducing them in your classroom? Get everything you need to teach or learn about visual journals, plus a ton of printable resources (including my magazine fade and tape transfer handouts) here.
Want to see more examples of using Mod Podge transfers in visual journals? Check some out here, here, and here.
Thanks for taking the time to check out my blog and visual journal page! Help me spread the word about what I do by sharing this post on your social media outlet of choice! Check out more visual journal blog posts here. Shop my education resources here. Don't forget to follow me on Instagram and TikTok for weekly visual journal demos. Until next time!
2 responses to "Mod Podge Image Transfer, Page 53"
Related Posts