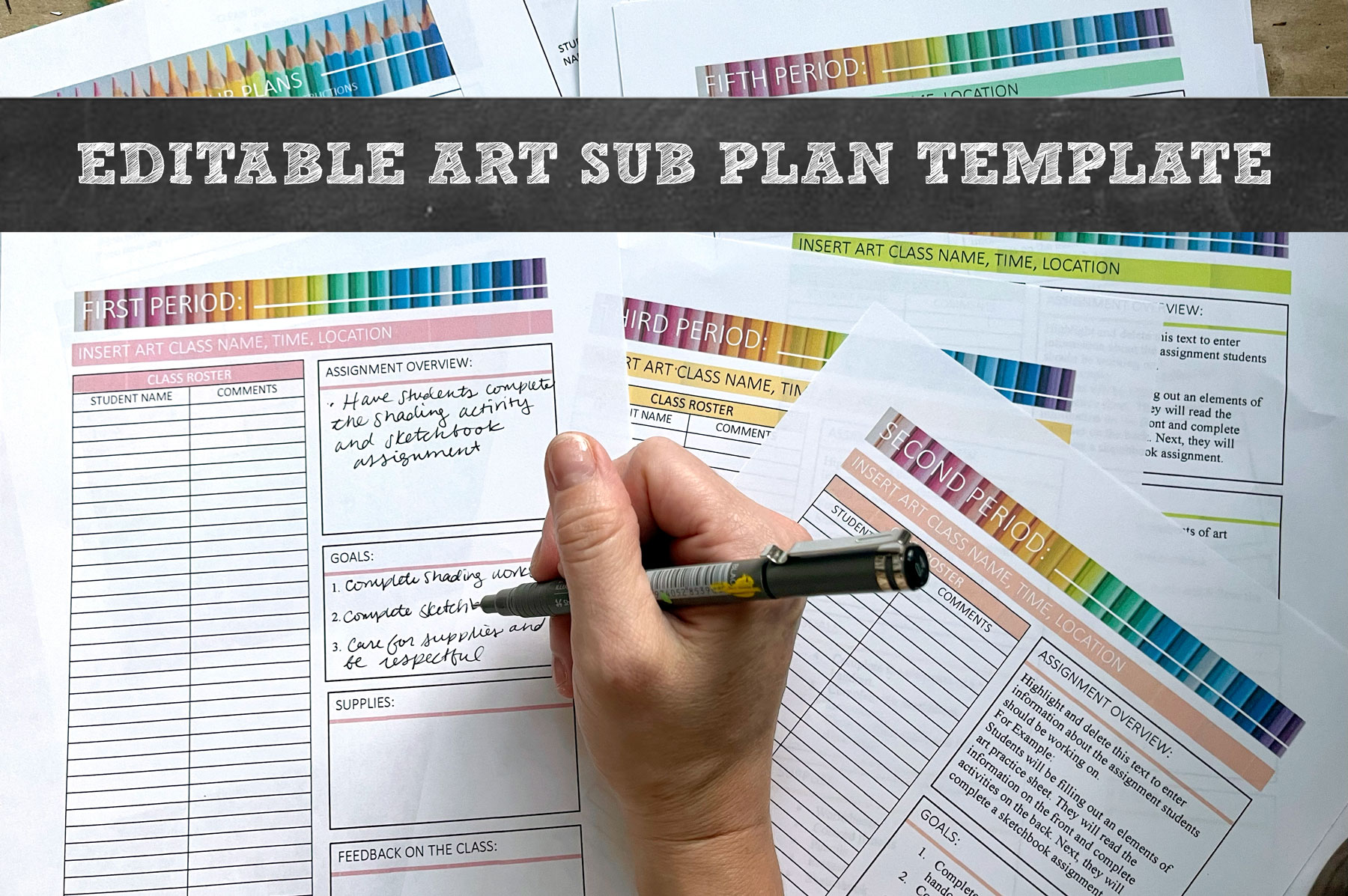 I always joke it's easier to go to work sick or skip a vacation than it is to prep sub plans for my classes. Setting up an art sub plan for each class can be especially time-consuming. In any given year I could have 4 different types of courses and 5 to 6 classes to prepare for. Read below for my favorite art sub plans, tips for making your life easier, and a FREE, editable art sub plan template.
ART SUB PLAN TIPS:
Leave detailed information for your sub to make the day run as smoothly as possible.
Find one activity students across classes can complete in an emergency sub-plan situation.
Don't be afraid of quick activities and worksheets.
Keep the assignments low-supply.
ART SUB PLAN FREEBIE:
I just rolled out an editable art sub plan template. It's easy to edit digitally, using Microsoft Word or Adobe Acrobat Pro, or print and fill in. You can download this by clicking the button below. Fill out the main information, such as the roster, seating chart, and class schedule, at the start of the year. This will save you time when you need to be out, you will only need to fill out the assignment instructions, goals, and supply list for each class.


EMERGENCY SUB PLAN
Every year my administrators required us to submit an emergency lesson plan. Mine always consisted of the same project across all classes, a visual journal prompt. Visual journals are already a part of every class, my students work on them every Friday, which makes it an easy implementation. Consider what techniques or assignments cross over every class. Do you require sketchbooks? Do you focus on the elements of art or principles of design? Create one assignment that everyone can complete. Fill out the art sub-plan template to reflect the activity, print one copy of the handouts or guides students will follow, and call it a day. Keep it simple! Don't push yourself to come up with a different activity for different art preps.
QUICK ACTIVITIES
Don't be afraid of worksheets! If you find the right activities for students to work on, it's not busy work. For example, I have my Intro to Art students work on elements of art and principles of design worksheets throughout the course to help them learn and practice them. In my drawing class my students work on shading worksheets to practice hatching, cross-hatching, stippling, and similar. A worksheet does not have to equal boredom or lack of learning. These quick activities are easy to print, copy, and for your sub to pass out. Check out my favorites below:
KEEP IT LOW SUPPLY
Whatever you do, keep it low supply if possible! Avoid acrylic paint or other materials that could ruin your brushes. Try to stick with pencils and other dry materials to help maintain your substitute's sanity. After all, most of them won't have an art education background. The art room can feel a little chaotic for those who aren't used to it.
Thanks for stopping by! Don't forget to follow me on Instagram and TikTok for weekly visual journal demos and other project ideas. Subscribe here to get freebies, project tutorials, and more straight to your inbox. Until next time!
2 responses to "Art Sub Plan Tips & Tricks"
Related Posts