This collaborative relief project was inspired by a previous project. When I taught intro to art, I always taught a lesson on the grid method by creating a collaborative grid with my students. Each student would get a section of the original image, and they had to enlarge and re-draw it. In order to accurately re-draw the image they had to pay attention to where lines and shapes intersected the outside edge of the image, which in turn taught them the basic concept of the grid method (read more about this here).
In the process of changing schools I also changed my teaching title, which meant a lot of new lesson planning was ahead of me. I was now exclusively a sculpture teacher, teaching 3D I and 3D II classes. Although I had taught sculpture in the past, and spent a lot of time in ceramics class in high school and college, I felt a lot of pressure to re-create assignments, and think outside of the box. After all I was moving to a private school with an established and impressive art department, I felt I had big shoes to fill in my new work environment.
Although it has been stressful at times trying to produce examples and create new projects, I have loved every minute of it. It truly is amazing how different a class can be when you actually have the budget to support it. I now had the ability to teach interesting, complex, and creative projects, without the fear of running out of supplies with no money left in my budget.
As excited as I was to have a new challenge in my life, I did miss some of my old projects, including my Intro to Art collaborative grid assignment. One day while reminiscing on the past, as I often do, it dawned on me that I could do a collaborative grid project in sculpture, by focusing on relief carving. I had my doubts that everything would come together during the project, but once all of the pieces were in place, I couldn't believe how amazing it looked. I am so proud of my students and I hope another sculpture teacher can find an interesting way to implement this into their class.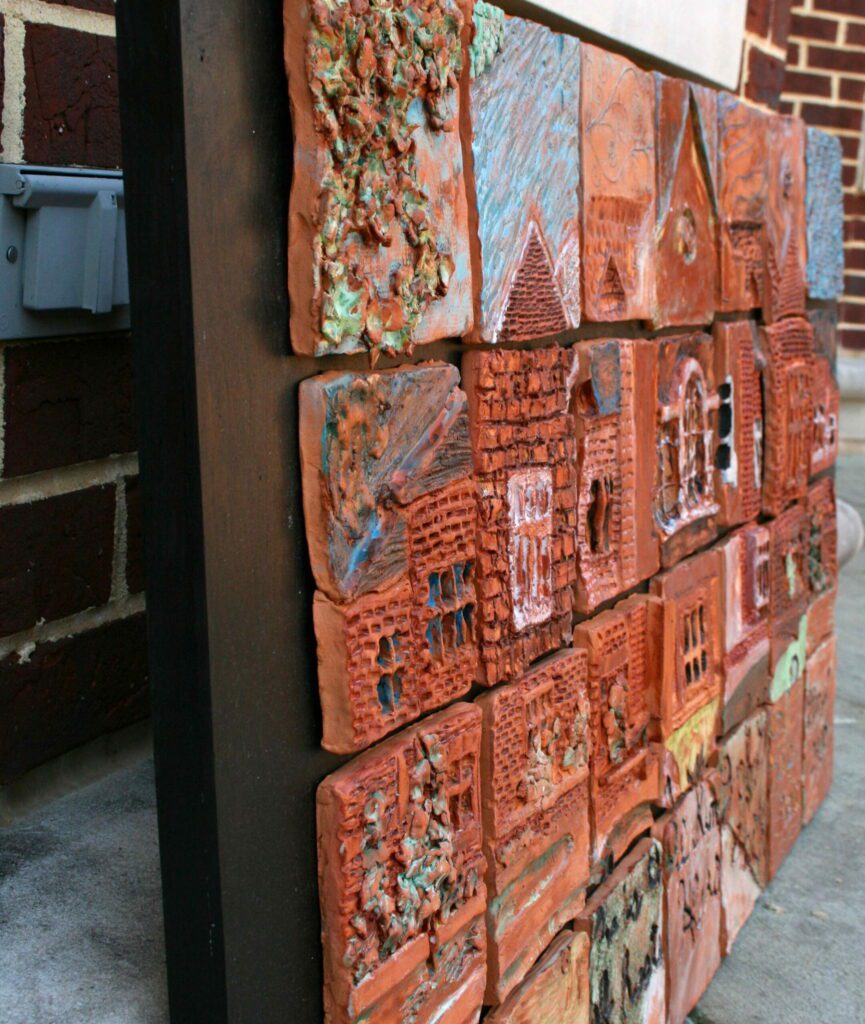 THE ASSIGNMENT: Collaborative Relief
OBJECTIVE: For students to learn the history and techniques of relief carving, and apply those techniques in a collaborative relief carving project.
SUPPLIES:
Lizella Clay

Rolling pin or slab roller
Ruler
Needle tool or knife
A variety of clay tools and textured items to carve and add texture
Low fire underglaze (I used blue, green, red, brown)
Low fire clear transparent glaze
Kiln
Wood panel
Black Paint
Heavy duty glue
STEPS:
1. I began this project by introducing my students to the artists, Brunelleschi and Ghiberti, and the famous Florence Baptistry doors competition. I had the students vote on which "Sacrafice of Isaac" relief they liked better, and we continued to discuss the doors as well as the Gates of Paradise doors.
2. After the history lesson I introduced the assignment. I explained that I would randomly hand out a 1″x1″ section of a larger image, and they would have to recreate it as a relief sculpture on a 6″x6″ clay slab. We discussed carving techniques and looked at the variety of tools they could use to create different textures.
3. After the assignment was explained they got to work. Before they started the project I had taken an image of our Fine Arts building, divided it into a grid, and put a number and letter on the back of each square (1A, 1B, 1C, etc.). I made sure to make a few copies, the students tend to misplace their squares and it helps to have extras on hand. As soon as the students got their slab square cut they had to flip it over and carve the letter and number into the back of it.
4. After the students completed their squares I fired them and had the students glaze them. I knew every line and shape would not line up in the image, so my goal was to create a sense of unity through the glaze. I instructed the students to loosely paint underglaze onto their tile (I set up a few colors of blue, green, brown, and red) allow it to dry, then wipe it off with a wet sponge. This technique caused the underglaze to stick in the textured areas, and wipe off of the smooth area, giving it a loosely painted quality. Once the colors were added they painted a layer of clear glaze on top, and once again wiped it off. I loved the shiny vs. matte look this created.
5. Once the pieces were fired a final time I glued them to a piece of wood I cut to size and painted black. My plan is to eventually add a black frame and display it in the Fine Arts Building.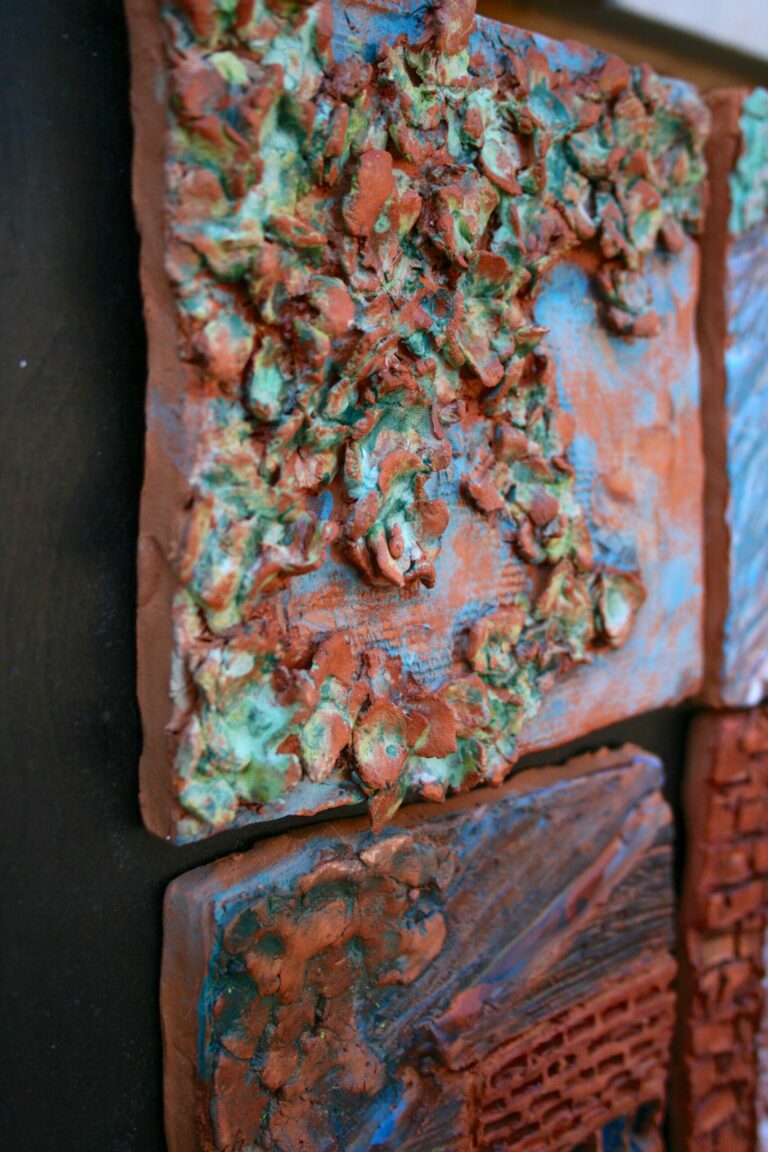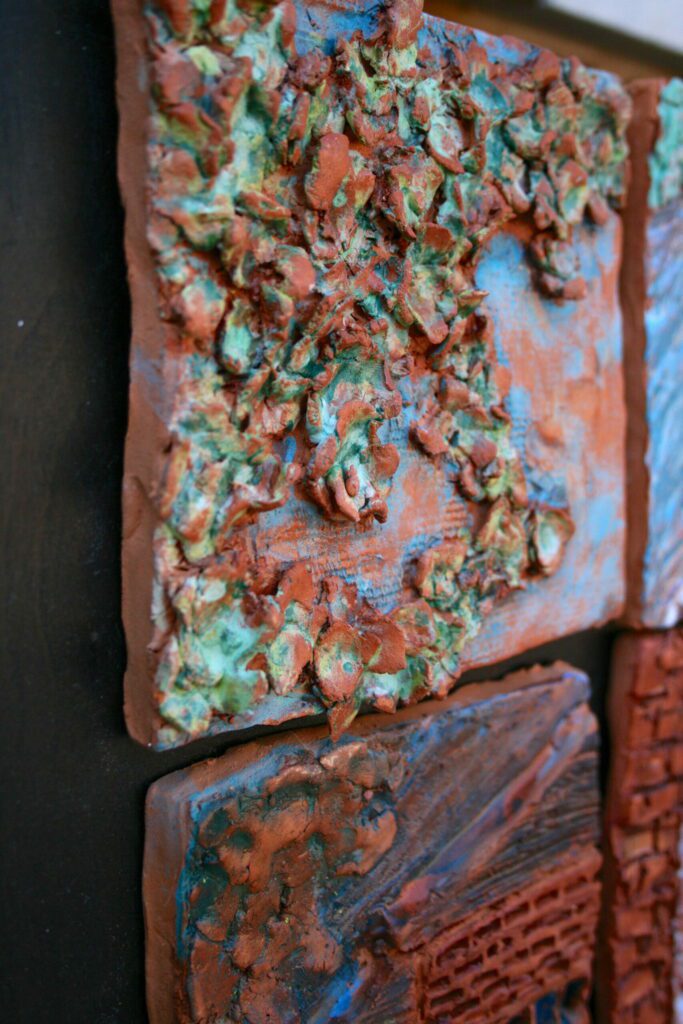 My students were as impressed as I was with the final product, and it was a huge hit at our annual art show. I love how each piece is important to the whole, and how it truly came together in the end.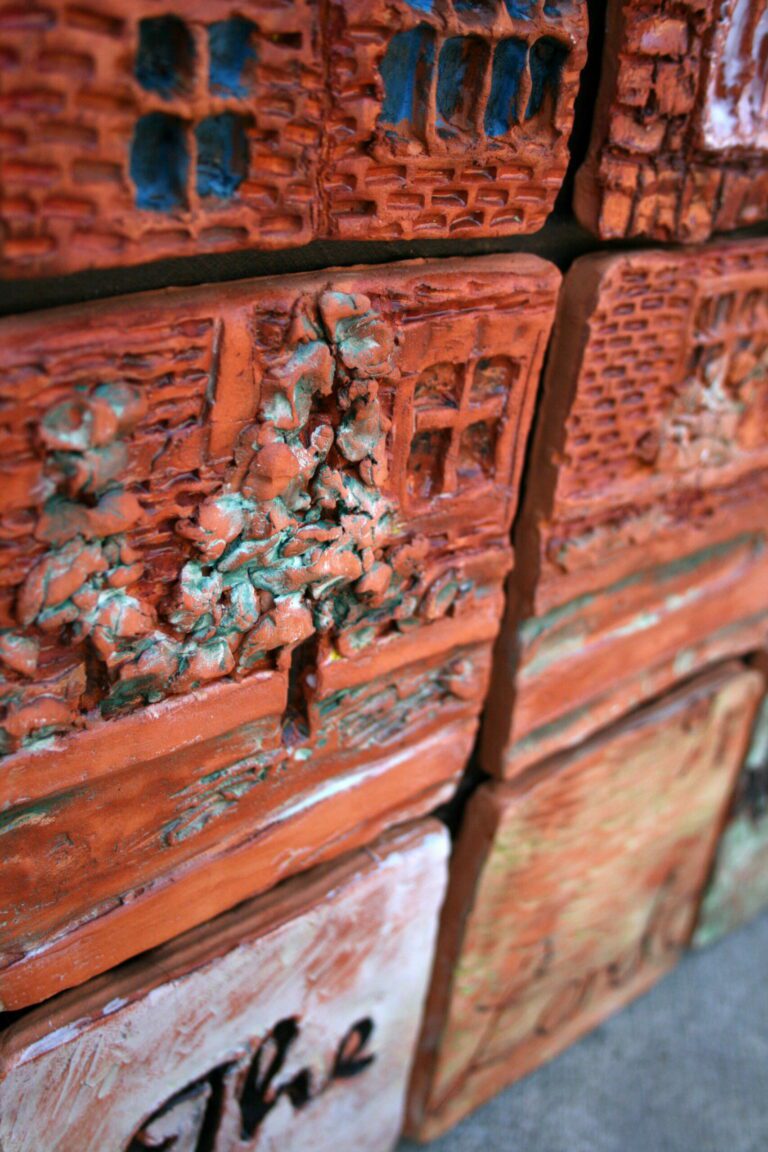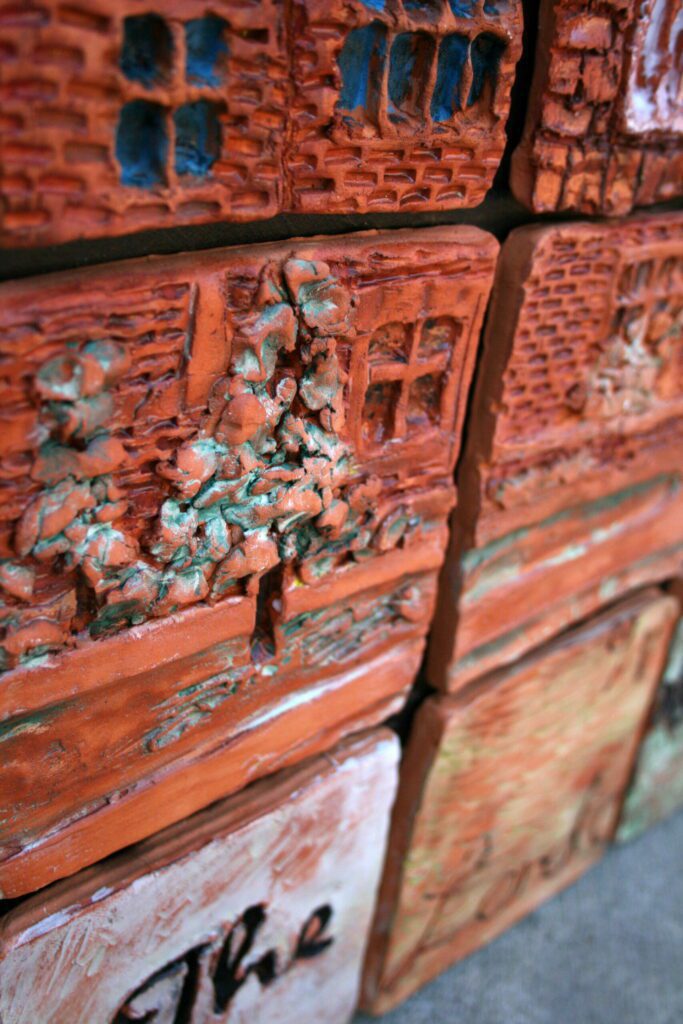 Thanks for visiting my blog, I hope you find useful information you can use in your classroom! Please comment if you have additional tips, or ideas, or have done something similar in your class! Thanks for helping me spread the word about my blog by liking, tweeting, commenting, and subscribing! I couldn't do it without you!
2 responses to "Art Lesson: Collaborative Relief"
Related Posts