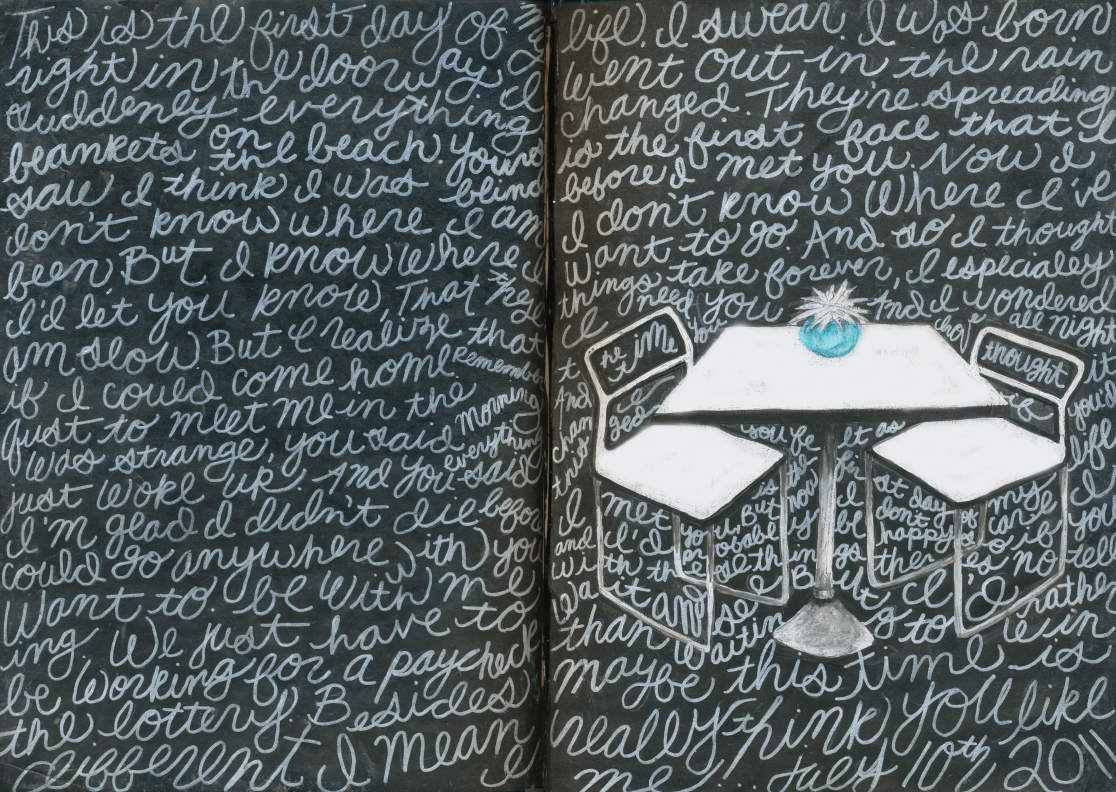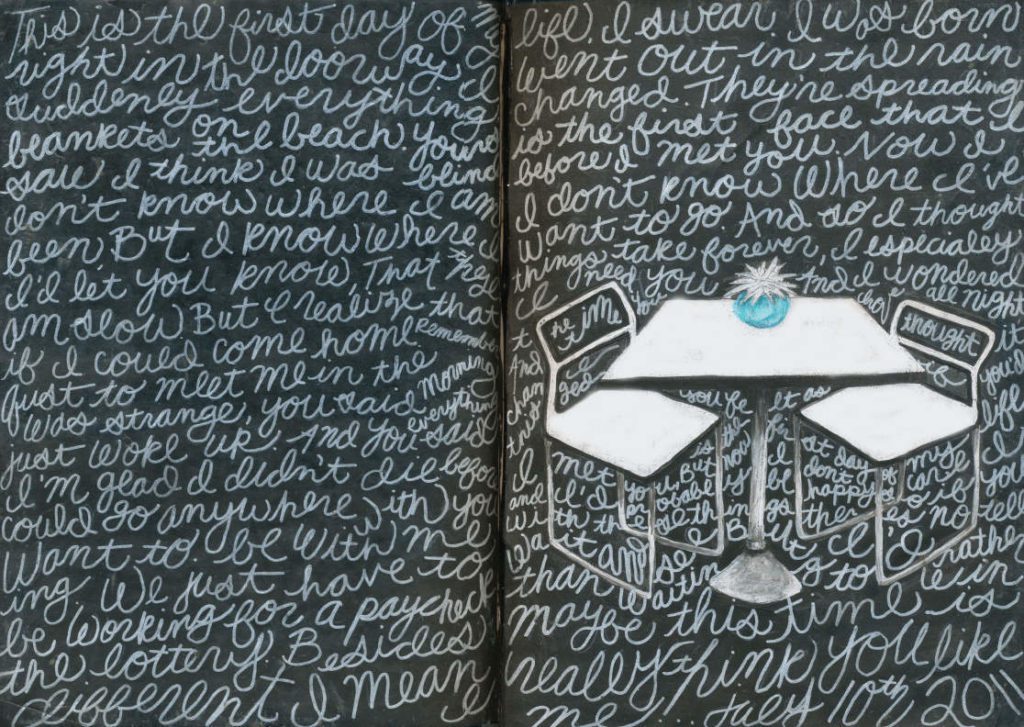 This silver sharpie on India ink page is inspired by my one-year wedding anniversary. Read below for the story, scroll down for supplies and how-to.
It was our one-year anniversary.
We spent the day together, enjoying donuts for breakfast, a hilarious golf outing, a picnic at the park, and a nice dinner out. Nick and I love all the food Atlanta has to offer, and we often try new restaurants. For our one-year, we wanted to go somewhere more swanky than our average outing, with delicious, interesting food. After reading a handful of rave reviews, we decided on Top FLR.
Top FLR is a trendy place in an equally trendy neighborhood, Old Fourth Ward. It's a tall, skinny building, with a white facade and simple, thin black letters spelling out the name. The exterior gives no hint of what is hidden behind the front door, I felt like I was walking into a secret place, hidden in plain view on a street corner.
The interior matched the exterior. The furniture was plain, yet modern. Most of the decor was black and white, with only a pop of color on each table; a turquoise vase that cradled a single, white chrysanthemum.  I already enjoyed the ambiance of the restaurant the minute we walked through the door. The lights were low, the music right up my alley, and the menu had a sophisticated simplicity to it, which perfectly fit with every other aspect of the restaurant.
I don't remember what we ate or drank that night. There was something with scallops, although that is typical of my fine dining outings. I don't remember the details of our lives we discussed, I'm sure at some point we reminisced on the perfect day one year ago when we said "I do." Despite losing details of the night over the last three years, I do remember the moment a familiar song came on.
Suddenly our conversation was interrupted as my ears perked up and I tried to place the first few notes of the new song filling the room. A nostalgic feeling tugged at my heart and brain as my ears absorbed the sound. It hit me before the first word was sung. It was our first dance song. Here we were celebrating our first year, wrapping up the night when our song came on. "First Day of My Life", by Bright Eyes. It is a song I know well, but you won't hear it on repeat on the radio, it has more of a niche, although still popular following. I was shocked to hear it was being played in that moment, I believe it was meant just for us.
It was the perfect end to a perfect day and a perfect year. This moment was meant to be, and we both paused and allowed it to sink in and find it's way into our memories.
by Bright Eyes
This is the first day of my life
I swear I was born right in the doorway
I went out in the rain suddenly everything changed
They're spreading blankets on the beach

Yours is the first face that I saw
I think I was blind before I met you
Now I don't know where I am 
I don't know where I've been
But I know where I want to go

And so I thought I'd let you know
That these things take forever
I especially am slow
But I realize that I need you 
And I wondered if I could come home

Remember the time you drove all night
Just to meet me in the morning
And I thought it was strange you said everything changed
You felt as if you'd just woke up 
And you said "this is the first day of my life
I'm glad I didn't die before I met you 
But now I don't care I could go anywhere with you
And I'd probably be happy"

So if you want to be with me
With these things there's no telling
We just have to wait and see
But I'd rather be working for a paycheck
Then waiting to win the lottery
Besides maybe this time is different
I mean I really think you like me
SUPPLIES
Visual journal
Pencil
India ink
Gesso
Turquoise colored pencil
Black Sharpie
Silver Sharpie
HOW TO
For this visual journal page, I really wanted to capture that moment. I decided to keep a very monochrome color palate, with the exception of the turquoise vase. I wanted it to have the same feel as the restaurant. Once I decided on the colors, I started on the page.
I used a pencil to sketch out the table and chairs. I had a good visual memory of what everything looked like, but also looked up Top FLR online and scoped out their pictures before I got started. After the table, chairs, and vase were added I took India ink and painted the background completely black. I carefully painted around the table and chairs. India ink is a great medium to get dark blacks. However, it bleeds through everything. To avoid ruining my other pages I ripped out two pages, create my visual journal page outside of my book, then glued the pages back in.
After the background dried I used white gesso to paint in the table, chairs and flower. After the gesso dried I used a pencil to add shading to the bottom of the table and to the flower. I used black sharpie to outline the chairs and a turquoise-colored pencil to fill in the vase.
Once the foreground was complete I added the finishing touches to the background, the lyrics from our first dance song. I wanted the words to completely fill the background, so I sketched them out with pencil until I got the font size just right. I then traced over the pencil with a silver sharpie, which pops really well on dark backgrounds.
CHALLENGE
Create a visual journal page about a meaningful song. Somehow incorporate the lyrics into the design of the page.
Thanks for taking the time to check out my blog and read my post. Help me spread the word about my blog by sharing with others, subscribing, and commenting. I couldn't do it without your help! Check out more visual journal blog posts here. Don't forget to follow me on Instagram and TikTok for weekly visual journal demos. Until next time!
One response to "Visual Journal Page 71: Silver Sharpie on India Ink"
Related Posts