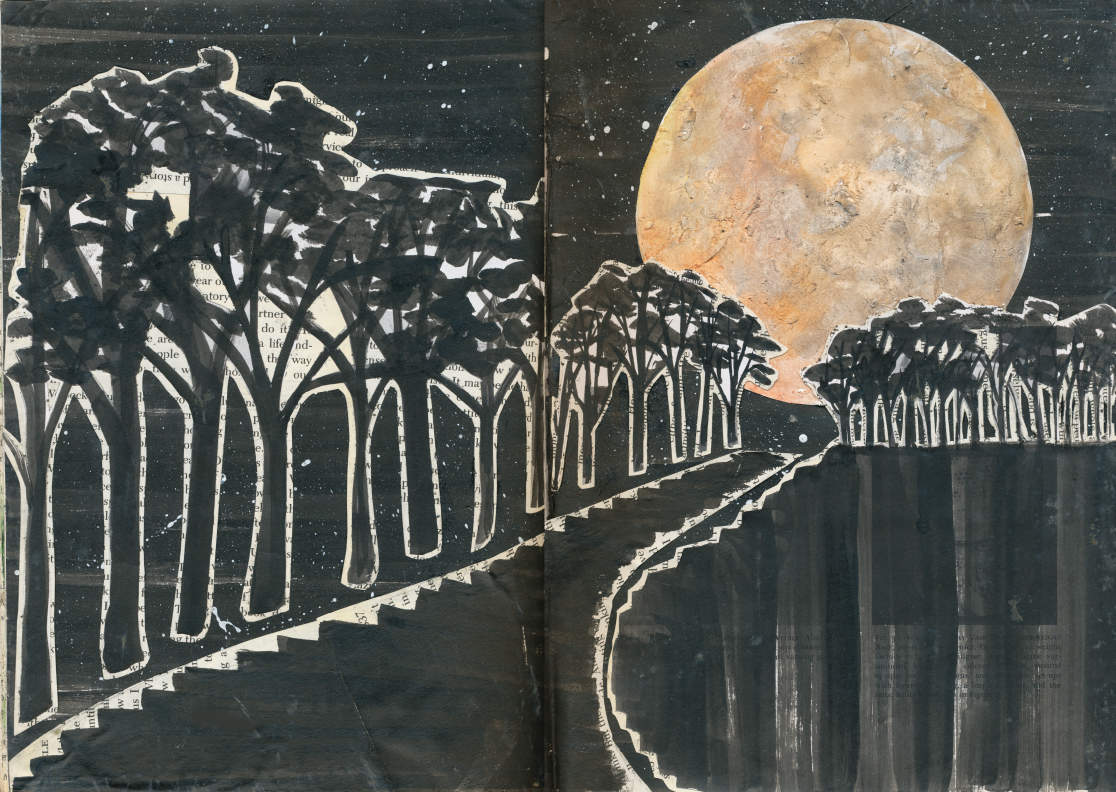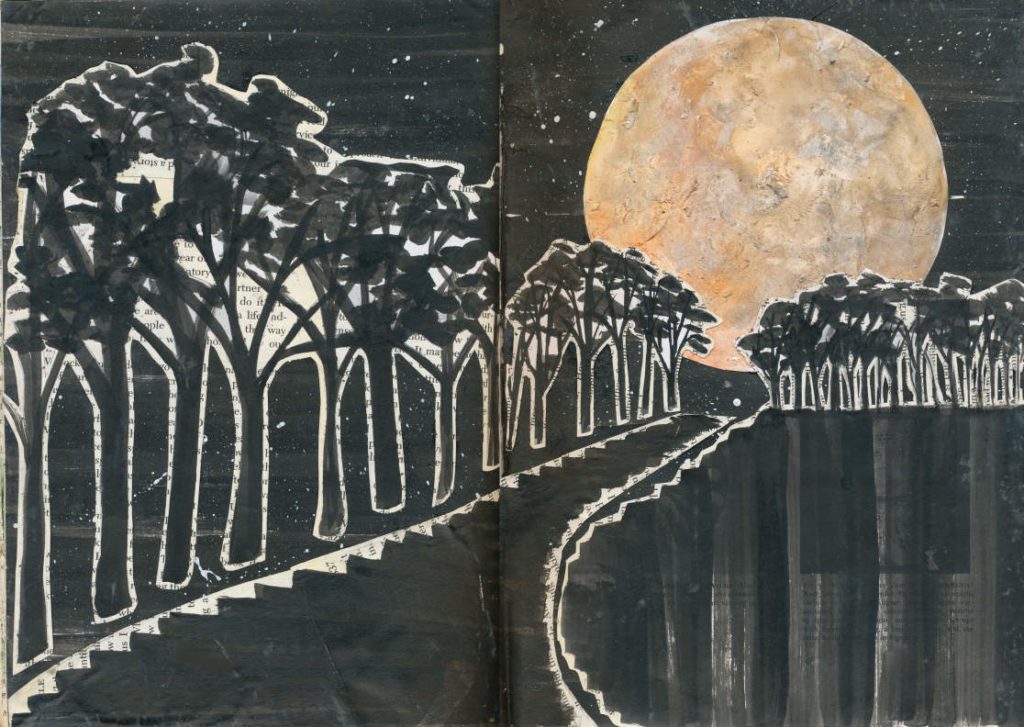 This visual journal page is probably my favorite page I have made so far, a gesso harvest moon. I am very pleased with how it turned out visually, and although it doesn't represent the most meaningful moment in my life, it still represents an important memory, a feeling I had and can relive when I look at it.
This page represents a road trip to Kiawah Island with my Nick, a long six-hour drive, and a sudden harvest moon surprise.
We were on our way to a much-needed vacation. We were meeting a handful of our friends at one of their parent's beach house, we were looking forward to the relatively low-cost beach vacation and a weekend away from home. After work, we ran home, threw our bags in the car, and headed on our way.
Friday after work is already a challenging time. I start crashing as soon as I get home from another long week, around 9:00 I'm ready for bed and l am already thinking about sleeping in the next morning. But here we were, ready to hit the 5:00 rush hour traffic, prepping for a 6-hour drive, willing to stick it out for an extra day of vacation.
Sometime after the sun went down, a few hours into the drive, the sleep began to hit me. My eyelids felt heavy, my attempts to be a good, entertaining passenger began to dwindle as we feel into sleepy silence.
Driving down the windy, two lane country roads there was little civilization, and little light. It was a dark night as we wove through the woods towards the coast. Just as I began nodding off we made our way around a curve, and a massive orange, harvest moon greeted us on the other side.
It was a moment that took me by surprise. I wasn't expecting this beautiful sight, I couldn't believe how huge the moon looked, and I almost missed it as sleep tugged at my body. We sat in silence admiring the view until another curve took as away and the moon settled behind trees. As we continued our journey the moon continued to follow use, peaking through the forest, from behind buildings, and every now and then showing itself in open spaces.
Although the moment came and went, and may seem insignificant, it made an impression on me. It woke me up for the remainder of the drive and kept me watching the scenery as we continued on. As much fun as we had that weekend the moon is what I most remember. I love that I still have moments of awe, and amazement at how beautiful this place is where we live.
SUPPLIES
Visual journal
Rubber cement
Scissors
India ink
Book pages
Gesso
Watercolor
Paintbrush
Xacto Knife
HOW TO
Before I even began making this visual journal page, I already had a plan for it. I knew I wanted a completely black-and-white page, with only the massive moon in color. I knew I wanted to recreate the scene, the winding road, forest lining on either side, and the moon at the center. I opted to use India ink to create the black foreground and background since it has such a rich, dark color. India ink is such a liquidy, wet material, it absorbs through everything. Because of this I decided to layer extra book pages together outside of my journal, paint the pages, then glue it into my journal.
After I layered the base pages I painted a solid layer of ink for the sky. Although India ink is very dark, it can also be very streaky. As I laid down the ink with my paintbrush I made sure I evenly space the lines, and kept it as consistent as possible. After the background dried I took gesso and splattered it over the background to create stars.
After the sky was complete I began painting the trees on a different set of book pages, followed by the road. Once they were dry I cut out the trees, glued them down onto the left and right sides of the page, with the cutout road in the middle. I knew I wanted the moon positioned at the end of the road, so I left areas where the trees and road would overlap the moon unglued.
I wanted to make sure this moon had almost as much impact as the actual moon I saw. I decided to cut out a circle and layer gesso on top to create a three-dimensional look. After a day or two of drying the gessoed moon was finally read to be painted. I began with a light layer of gray watercolor, which settled into the groves and low areas of the gesso. I then layered orange on top. After just two coats of paint, I took a step back and to my surprise, I realized the moon was complete. I carefully glued the moon to the background and glued the remaining edges of the trees and road. My beautiful moon-inspired visual journal page was complete.
CHALLENGE
Use thick layers of gesso to create a more three dimensional look on your next page!
Thanks for taking the time to check out my blog and gesso harvest moon post! Help me spread the word by sharing with others, I couldn't do it without you! Thanks for stopping by! Check out more visual journal blog posts here. Don't forget to follow me on Instagram and TikTok for weekly visual journal demos. Until next time!
Related Posts