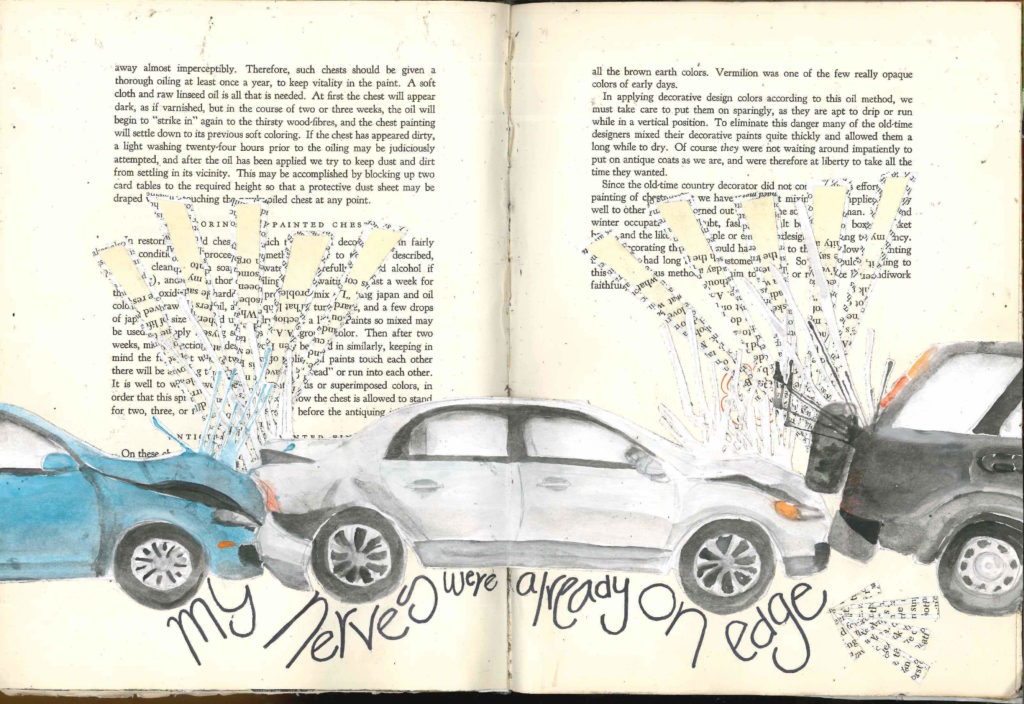 Check out how I used watercolor splatters to add some drama to this visual journal page. The story behind the page, supplies, and how-to are below.
THE STORY
I was already on edge.
It was an early start to the day. I showered, carefully selected my most professional outfit, and was driving on 285 en route to an interview.
It wasn't just any interview. It was an interview at a well-regarded private school that happened to be across the street from where my husband worked, we could carpool. I would have an actual budget to teach art and small class sizes. There is a building dedicated to the fine arts. I could move on from my current job where I felt worn out, unappreciated, overworked, and like I was only a warm body available to proctor standardized test after standardized test.
A lot was weighing on at this moment. I had to crush it. I couldn't stay in my current job for another year. Something needed to change.
All of these thoughts circled my head when suddenly taillights flashed ahead; the sound of crunching, and squealing tires followed. I glanced quickly to my right and miraculously in that split second the lane was open, I jumped over just in time. I had just missed being another car in a string of crushed metal.
A few seconds earlier or later and I could've been stuck on 285 while my interviewees awaited my arrival. I felt a wave of relief followed by the anxiety of almost being in an accident.
I was already on edge.
By the time I reached my interview my nerves had calmed, I had collected my thoughts, I was ready. I walked onto the school's campus and was overwhelmed by how beautiful it was. I sat through five different interviews, and while intimidating, they were all so welcoming and nice. It felt like a place I could belong.
Seven years later that 285 corridors has become my commute. Hopefully, I will continue to avoid accidents on my way to my beautiful campus and cushy private school job.
SUPPLIES
Visual journal,
Rubber cement or Mod Podge
Scissors
Watercolor
White paper
Book pages
Thin sharpie
WATERCOLOR SPLATTER HOW TO
To create this visual journal page I wanted to recreate the scene of the accident. As I drove past and glanced to my left I saw at least three cars had rear ended each other, but quite a few were stopped. I decided to stick with that number, after all odds are more pleasing in art.
I sketched out the crunched-up cars on a separate sheet of paper and filled them in with watercolor. While the watercolor was still wet I blew it where the cars made contact to create a watercolor splatters effect. Once the first layer of watercolor dried, I add more detail and some shadows and highlights. I cut it out once it was dry.
Next, I cut out triangle shapes from two different colors of book pages. I wanted to create a graphic, loud symbol that would somewhat blend into the background. I glued the smaller triangles on top of the larger triangles, then carefully placed them in the book. Once I was satisfied with their placement, emphasizing the cars hitting each other, I glued them down.
The watercolor cars were added next, then a few more book page triangles to the bottom. Last but not least I added the text using a thin sharpie.
CHALLENGE
Create a visual journal page about a stressful moment in your life. Incorporate watercolor splatters somewhere in your image.
Check out more of my visual journal pages here. Interested in teaching visual journals? Check out my TPT lesson here.
Thanks for taking the time to check out my blog! Check out more visual journal blog posts here. Shop my education resources here. Don't forget to follow me on Instagram and TikTok for weekly visual journal demos. Until next time!
Related Posts