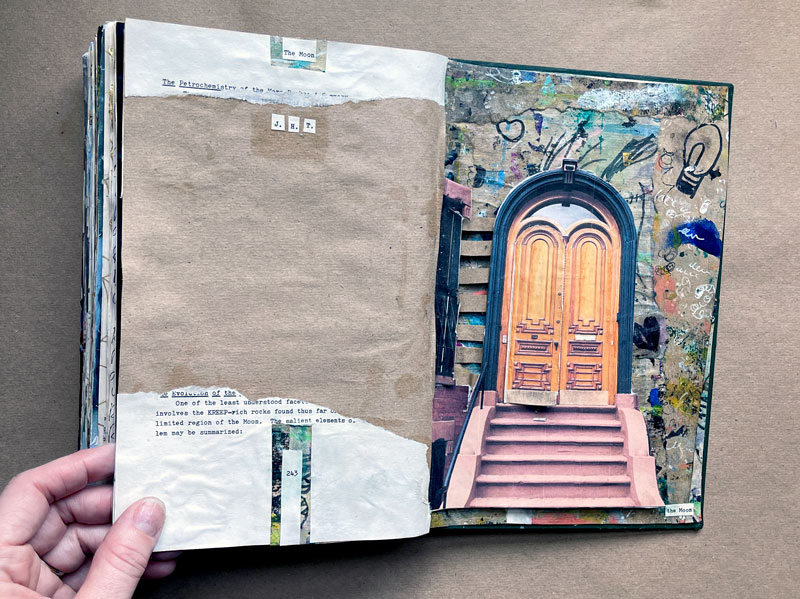 I love working in my visual journal, or what some people refer to as a junk journal. This week, I completed the very last page in my book, and I must admit, this page does lean into the name junk journal. Read junk journal ideas and tips below as well as the story behind my very last visual journal page.
Junk Journal Ideas: Connecting Pages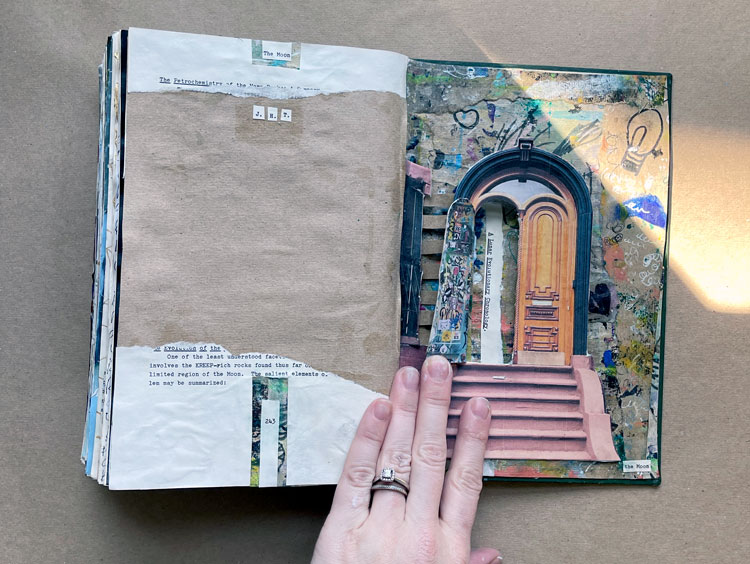 There are so many junk journal ideas to run with, but this week I decided to focus on connecting multiple pages together. To do this, I created a cut-through via a door picture to the next page. This creates an interactive element to my visual journal (aka junk journal) and it helps tell a story.
I have always loved doorways. I often find myself photographing them when traveling or even on walks in my neighborhood. Doorways tell a story about what is on the other side. Is it a house, business, or studio? Is it well-kept, run-down, or even unoccupied? I found myself thinking back to two very distinct doorway photos I took in two very different places.
THE BOSTON DOOR
While in Boston I was captured by the most beautiful, subtle yet ornate doorway. The wood had a yellow tone, the arch made it stand out. I just knew the person on the other side was put together, their home was neat, beautiful, and by all measures pristine.
THE BERLIN DOOR
In contrast, while in Berlin I fell in love with a sticker, graffiti-covered door in an alley. This door told the story of the artists of the city. It shared opinions, values, and aesthetics. The door was a compilation of many hands turned into one work of art. It was creative throw-up, and I was here for it.
These two doors captured my personality in a way. First, my love of a nice, clean, house mixed in with chaos. White walls and pops of color. The mix of creative, artsy energy with calm and neatness is the combination of these doors. It was with this thought I started the journey on my last visual journal page.
SUPPLIES
To create this visual journal page I used:
Visual journal book
Doorway images printed out
Mod Podge (Elmer's glue also works well)
Scissors
Xacto knife
Butcher block paper
Painted butcher block paper
Book pages
STEP ONE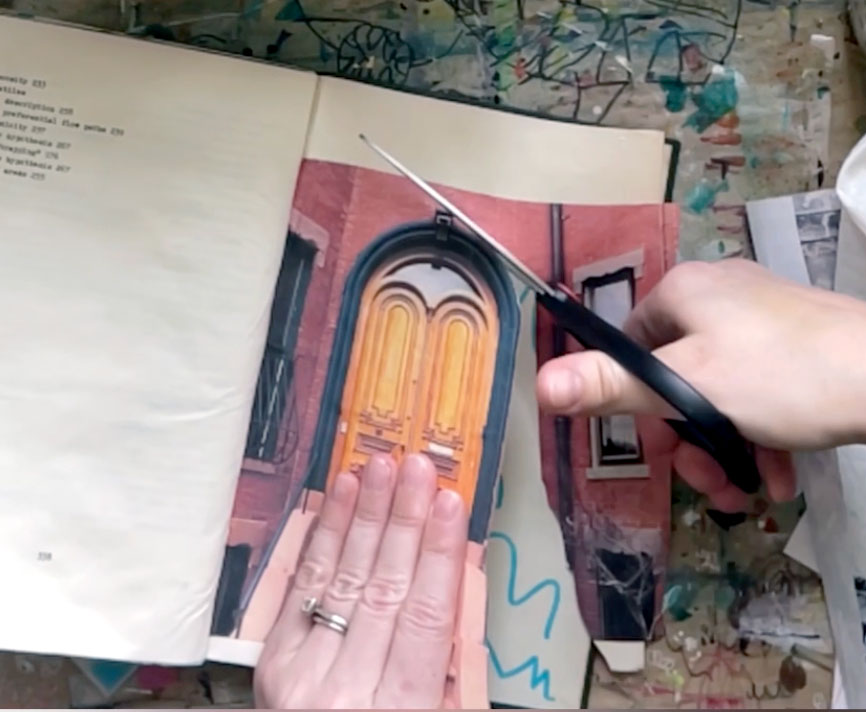 To start this visual journal page, I glued my Boston doorway picture onto a page in my book. Once dry, I cut around the edge, leaving the left side uncut. This kept the doorway image still attached to the binding of the book.
STEP TWO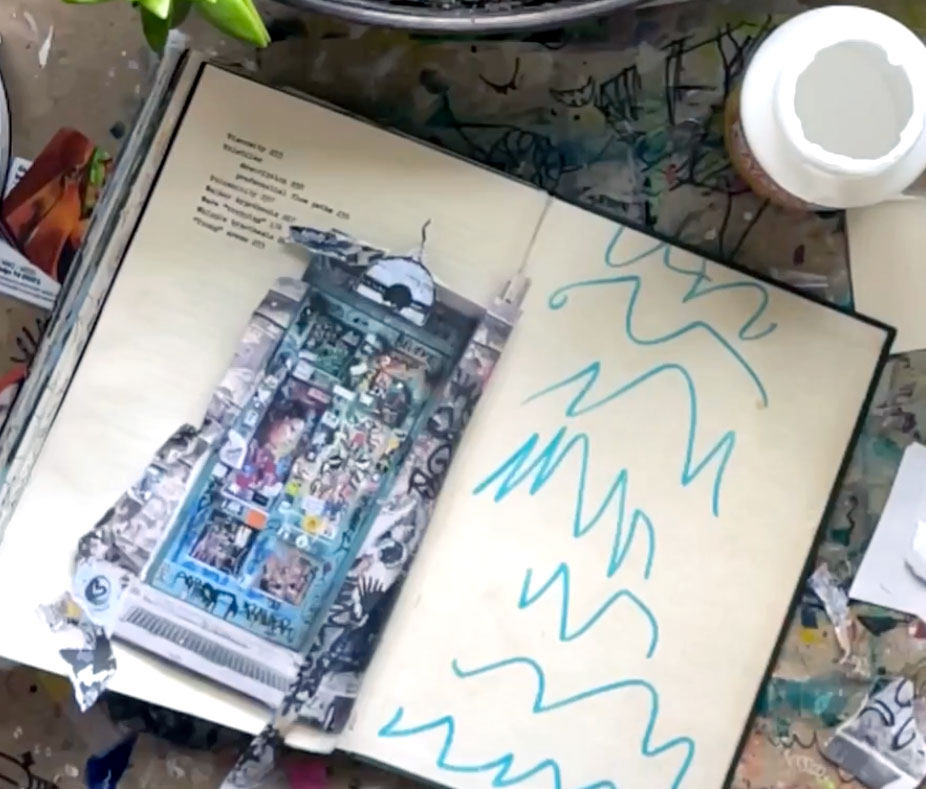 Next, I flipped over the Boston door and glued the Berlin door to the backside. Once again, when it dried I cut around the edge of the door. I prioritized the shape of the Boston door, fitting the Berlin door into it and adding pieces of the graffiti wall from the image to fill up space around it.
STEP THREE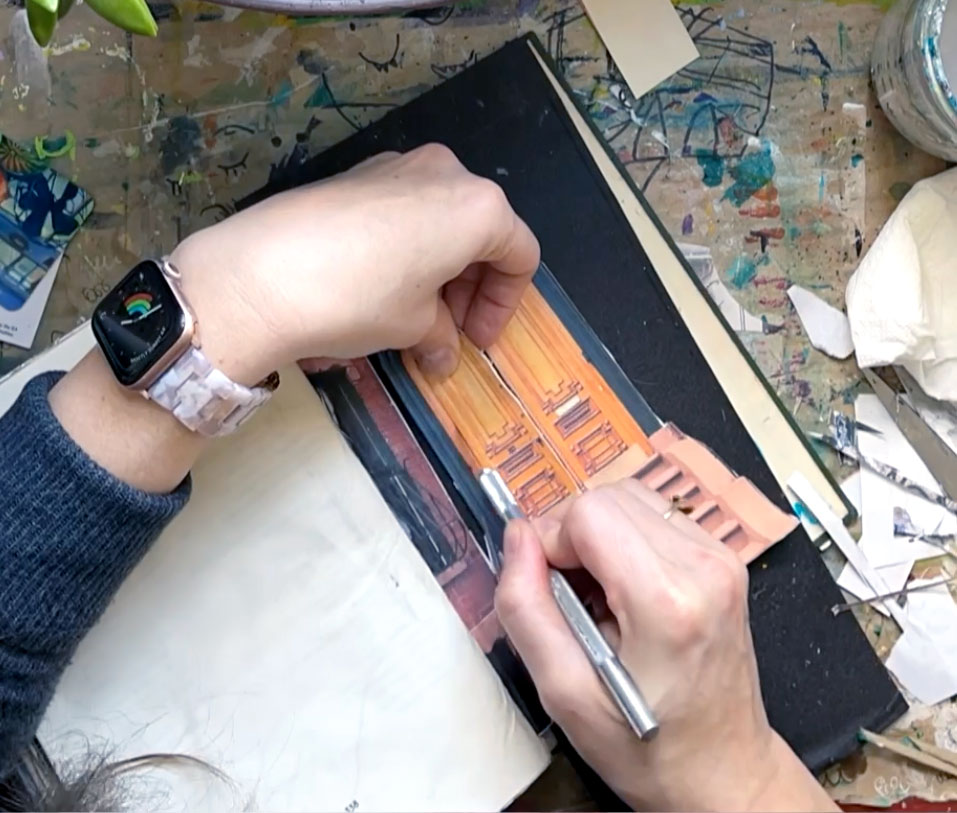 To create the interactive element, I used a Xacto knife to cut the left side Boston door open. I can now flip it open and closed revealing the graffiti pattern of the Berlin door behind it.
STEP FOUR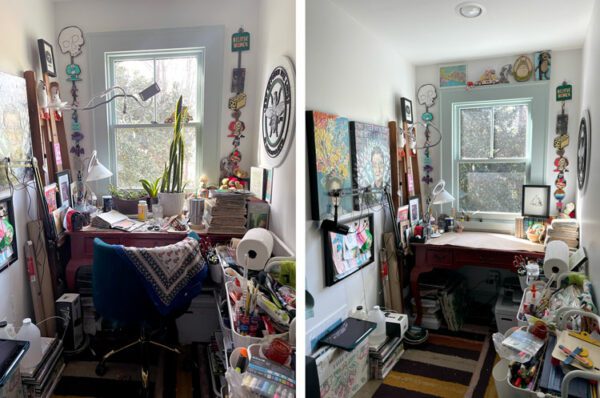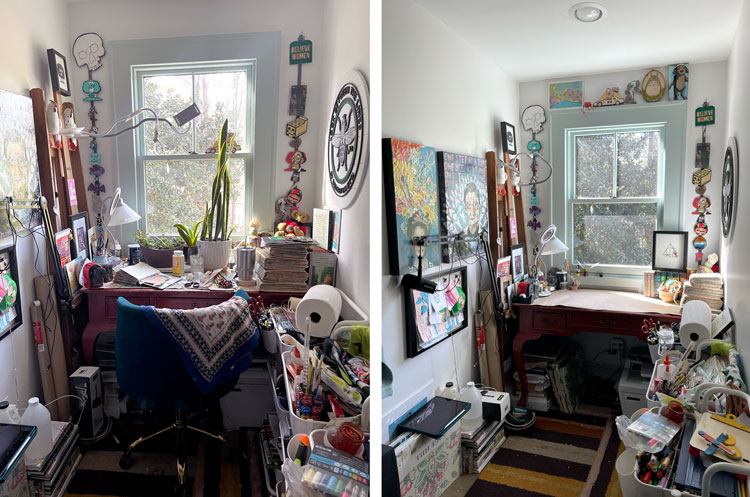 To complete the next step I had to clean my art nook. The overlapping patterns and colors of the Berlin door reminded me of the butcher block paper on my desk. Over the last year and a half, it had collected all of my art splatters, scribbles, and spills. I had created accidental artwork, and it was beautiful. This was the perfect addition to my page. I decided to cut this out and use it in my visual journal.
I cleared off my desk, reorganized supplies, and laid a new sheet of paper down. It was a great way to once again combine my clean and creative sides together.
STEP FIVE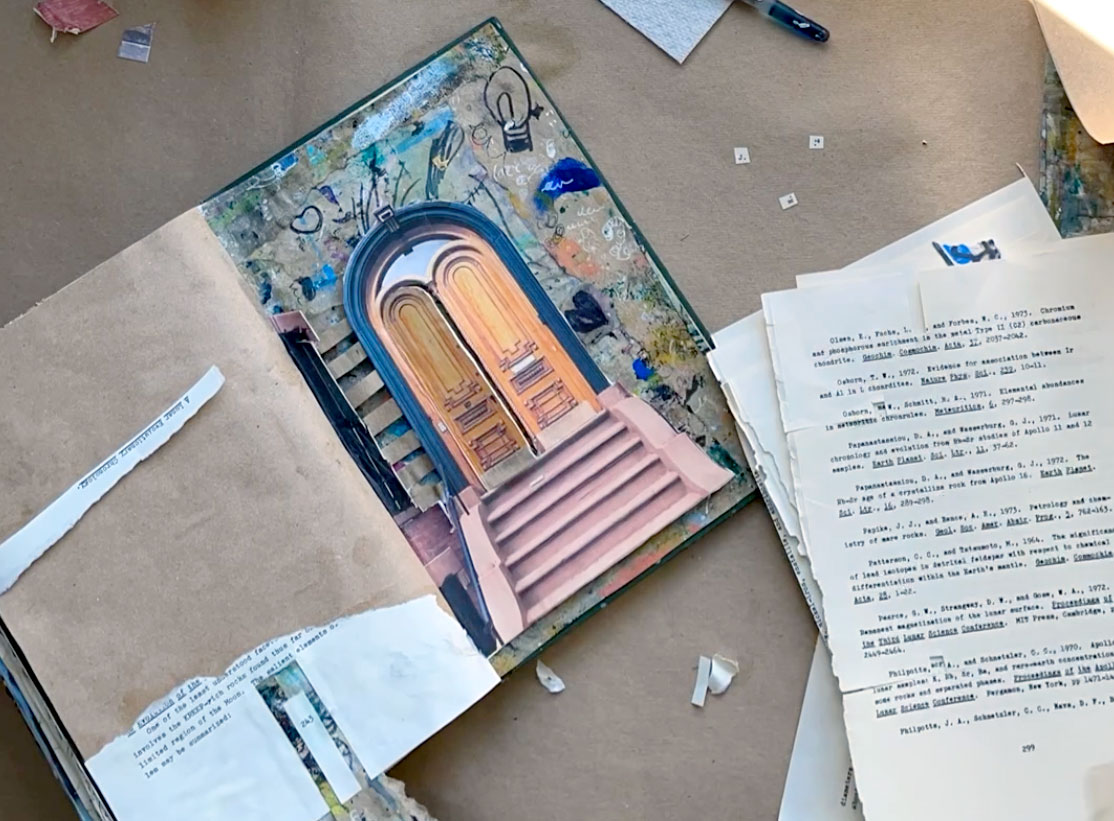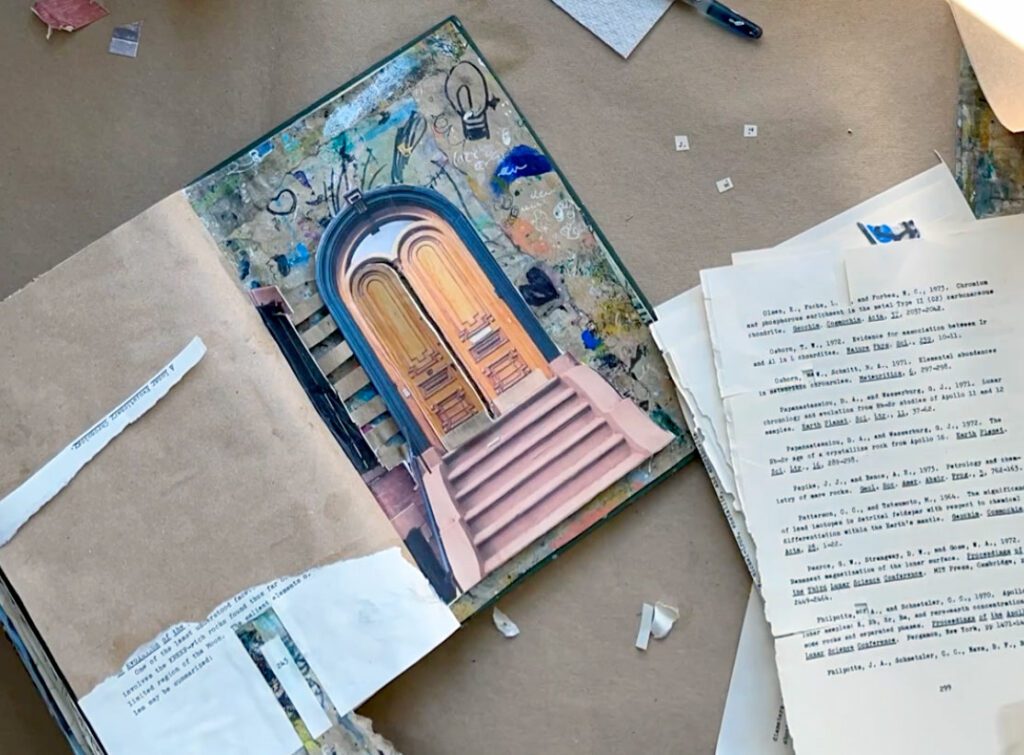 To finish the visual journal page I added clean butcher block paper to the left side, complimenting the beautiful Boston door. On top of this, I incorporated the name of the book I used as my visual journal base, The Moon, and the author's initials. I like to give a nod to the book at the completion of each of my visual journals.
On the right page, I glued the messy, art-covered butcher block paper. This complements the Berlin door style. As I wrapped this page up, the term junk journal kept coming up, because I felt I was turning junk into art.
The Final Pages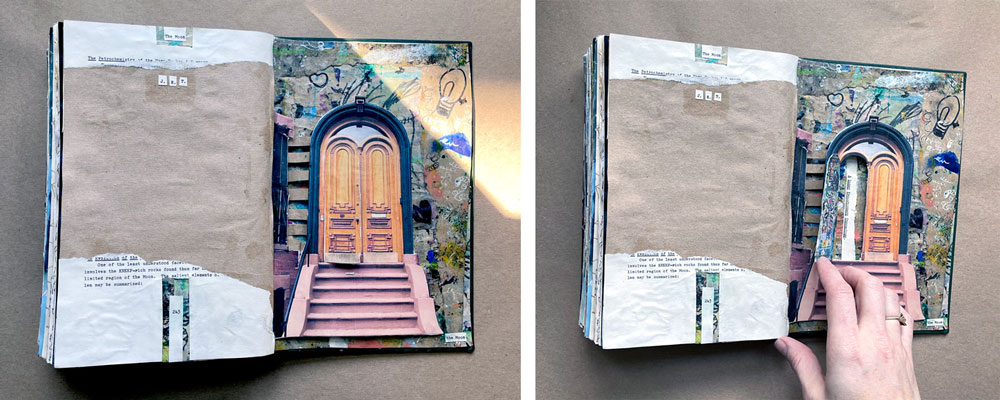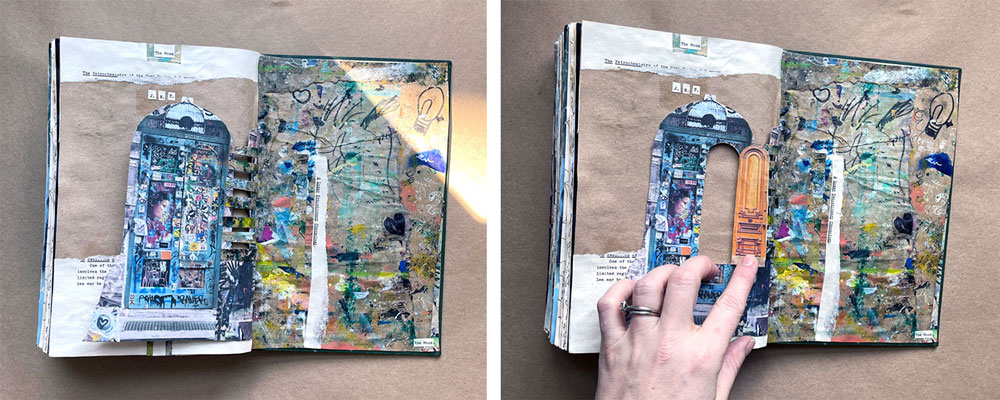 I love how these two door images came together in my final visual journal pages. It is the perfect reflection of me and the perfect close to my book.
CHALLENGE
Looking for visual journal or junk journal ideas? Look no further than the scraps of paper, drop cloths, and paper mats around you. See what you can recycle and reuse in your book.
Thanks for stopping by! Check out more visual journal blog posts here. Shop my education resources here. Don't forget to follow me on Instagram and TikTok for weekly visual journal demos. Until next time!
Related Posts