I can't believe it's that time of year again. It's BACK TO SCHOOL! Where did summer go? My summer went to pools, beaches, baby snuggles, and a ton of TPT ing.
My little family enjoyed a much needed out of town vacation in Hilton Head Island, SC. One of my favorite parts of being a teacher is the time I get with my sweet babies during summer. I ate up every minute of it while the babies were awake. But, every minute their little heads were on their pillows I was at my computer getting ready for today. The back to school sale!
I have seemingly endless ideas for TPT products, and my ever growing to do list certainly reflects this. I have hit it hard since the start of summer and have put together a bunch of new products and some major bundles. August 1st and 2nd my entire store will be 20% off, plus an extra 5% from TPT added at checkout. This is huge especially for my 5 curriculum, $300.00 bundle. See details below.
This is a goal I have been working toward for a couple of years. When I first started working on curriculums, with my Intro to Art curriculum, I realized there was a market out there for these types of products. That motivated me to post my personal curriculums for drawing, painting, advanced 2D, intro to sculpture and ceramics, and AP art. My goal has always been to build each curriculum individually then create a mega bundle, a complete high school visual art course load. Originally I wanted to also include 3D, but it will take more time to get there. Instead, I went ahead and put together my 2D high school mega curriculum bundle . It includes:
I have this listed for $300.00, a $35.00 discount. This is everything you need to teach every single day in 5 different art courses. With 25% off this bundle will be just $225.00, a lot of money for an art teacher, but a steal for the amount of content.
I already wrote about my AP Art curriculum here, so I won't repeat myself. But I am so proud of this bundle. This would've been a huge help to me as a 1st year AP teacher, and I hope it can serve that for someone else. I have already gotten a number of questions about this curriculum vs. my advanced 2D curriculum. They are totally different and if you teach both I recommend getting both. That way you won't have to redesign AP once your advanced kids move up. This will be just $75.00 with the 25% discount.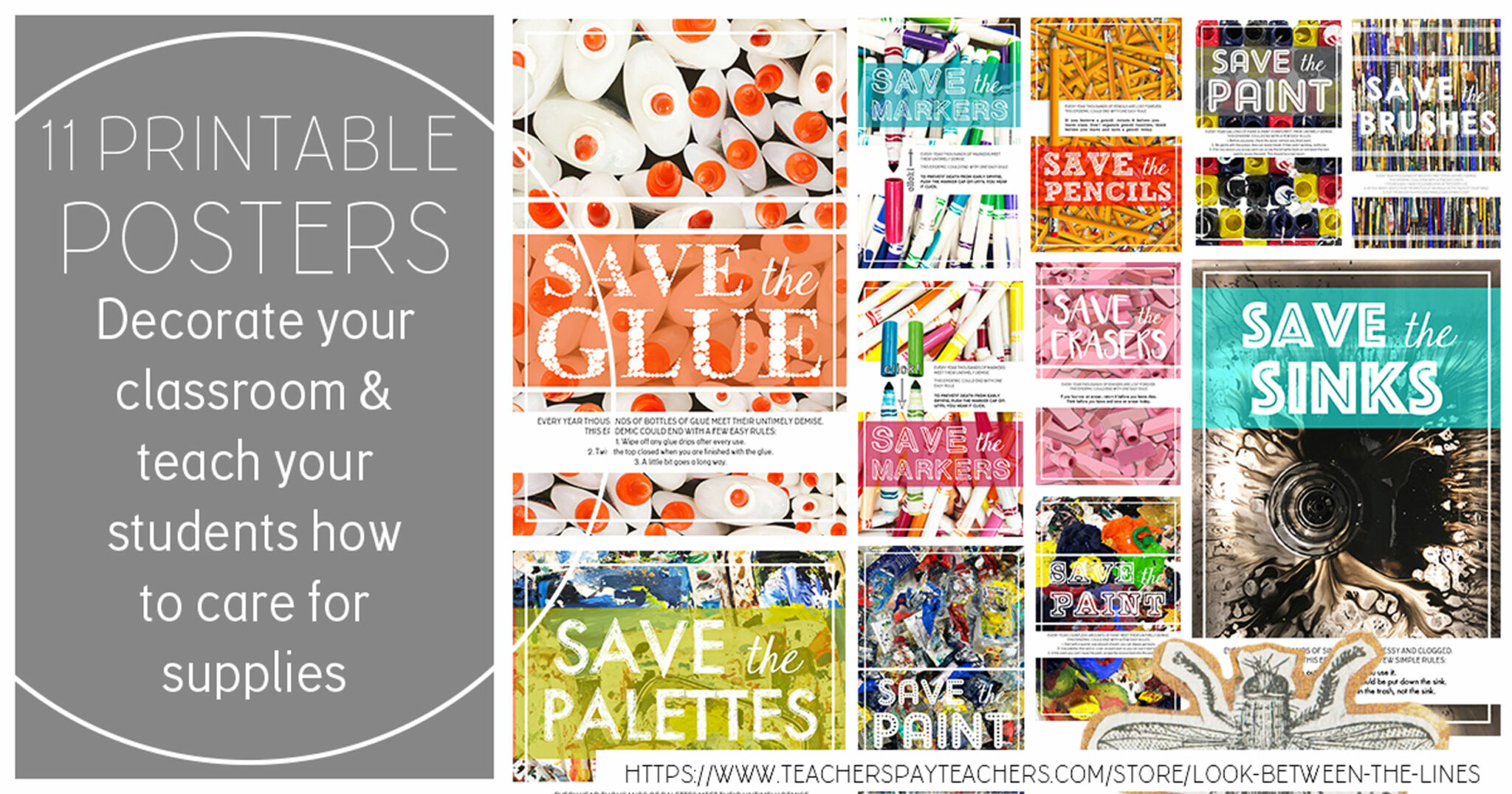 After completing my 5 curriculum bundle I decided to return to a project I started last year, a save the brushes poster. It was a quirky way to show students what happens if you don't care for supplies and tips on how to prevent ruining brushes. As an art teacher I have many supplies at risk of student abuse. Over the school year I made it a point to photograph supply disasters as they happened in my room. I then turned those photos into save the glue, palettes, markers, paint, paint pumps, paint tubes, sinks, erasers, and pencils. I now have a poster bundle of "Save the…" posters. This is bundled for $17.60, and will be marked down to $13.20.
In my advanced 2D and AP art curriculums I made it a point to develop critiques to go along with every project. That lead me to the idea of creating a critique bundle. This includes 20 general critiques that could go with any type of project at any level. They are fun. get kids moving, thinking, and verbalizing their opinions. This lists for $37.60, but will be marked down to $28.20 on 8/1/18 and 8/2/18.
In addition to my own massive to do list, I have also decided to team up with my amazing coworker, Meagan Brooker, and my amazing mom, Anne Ward. Meagan teaches drawing, photography, and AP art at our school. She is also a professional photographer on the side and is responsible for all our family photos for the last six years, many of which are proudly printed on our annual Christmas cards. Photography is a hobby of mine, but professional, manual photography is totally out of my comfort zone. I know there is a need out there for good digital photography lessons, so that is where Meagan comes in. She hands over her awesome lessons and I TPT ify them: adding detailed lesson plans, PowerPoints, and clarifying instructions so anyone, professional photographer or not, can follow them.
Meagan and my first collaboration is an introduction to photography lesson. This focuses more on setting up a successful photograph from step 1, rather than relying on editing later. It emphasizes the elements of photography and rules of composition. This has two projects in one. It lists for $8.00 but will be marked down to $6.00 the 1st and 2nd of August.
My mom is a retired art teacher of over 30 years. She has a ridiculous wealth of knowledge in this subject area and still teaches private lessons, summer camp, and consults in her former school county. She specialized in printmaking in college, which is why I am so excited that the first bundle we are working towards is a K-5th printmaking bundle. It will not only include amazing lessons, but also how to set up your classroom to help printmaking run as smooth as possible. We will be working over the next year (or more) on a comprehensive K-5 yearlong curriculum. Our first printmaking lesson is a kindergarten fish monoprint. More is coming soon!
School starts for me 8/6/18, I am equal parts ready and not ready. But, I am making some changes in my classroom and can't wait to share them here. I am hoping I can keep my summer stamina going and keep posting almost as frequently during the school year.
I have new motivation as my husband quit his job in May to pursue building is own company. This is something we have discussed for years, and TPT has made it a reality. I am so proud that my hard work is paying off and I can support my family in this way. TPT has provided a space for teachers to share their ideas with others, and I am so grateful I discovered it, gave it a try, and stuck it out.
Thanks for taking the time to check out my blog! Don't forget to check out the TPT sale 8/1/18-8/2/18. If you are reading this after the fact, I promise my products are still worth every penny even at full price! Thanks for stopping by.
Related Posts