I have always had an interest in street art. I love the vibrant colors, range of subject matter, and sense of freedom spray-painted images have. As a child, the special trips into the city of Atlanta brought awe at the height of buildings and a bit of shock to see words and images plastered on the sides of walls.
As an adult now living in the city I love seeing the living walls. Real art is created here. Conversations between artists happen as a stenciled bunny rabbit is suddenly surrounded by spray-painted carrots, then a fox chasing from behind. One day I drive down the street and discover a mural being created, the next day I find Tom Selleck's silhouette appeared on a bridge overnight. There is constant change, expression, and artistic freedom on these walls. You see mistakes, growth, and change in the layers of paint.
With spray paint often used as a means of vandalization and gang tagging it has developed a bad name. However, despite its many negative connotations I do believe there has been more acceptance of good intentioned (and well done) graffiti art. I am excited to see Atlanta begin to embrace street art rather than fight it. This is evident by the large increase in commissioned public art I have seen in my five years in the city. Amazing images have begun brighting dark corners, alleyways, tunnels, and overpasses. The ability for street artists and government officials to come together and create has brought much more culture and flavor onto the walls of my city. For those who don't spend their weekends wandering art museums, walking down the street has now become an opportunity for them to be introduced to and experience art.
Chor Boogie is one of the artists working to give spray paint a good name.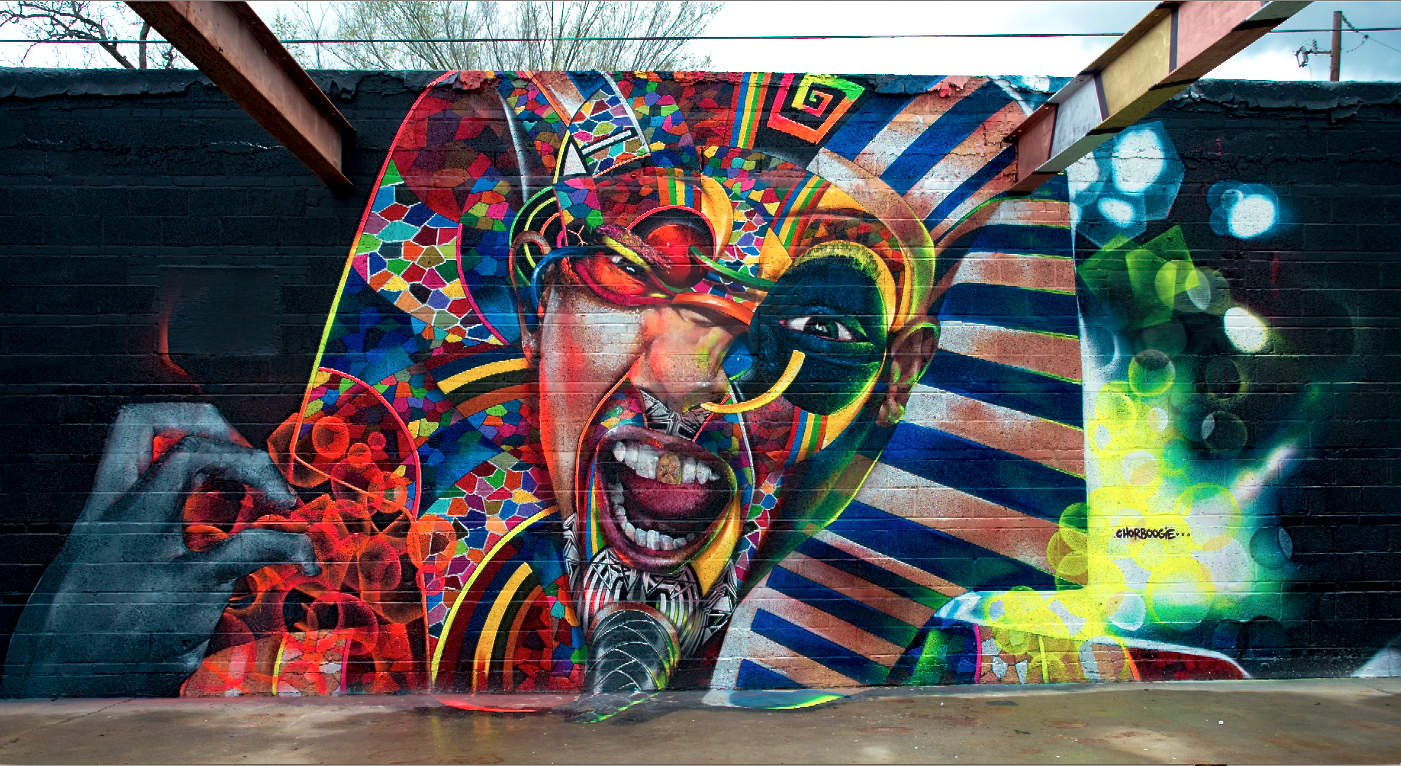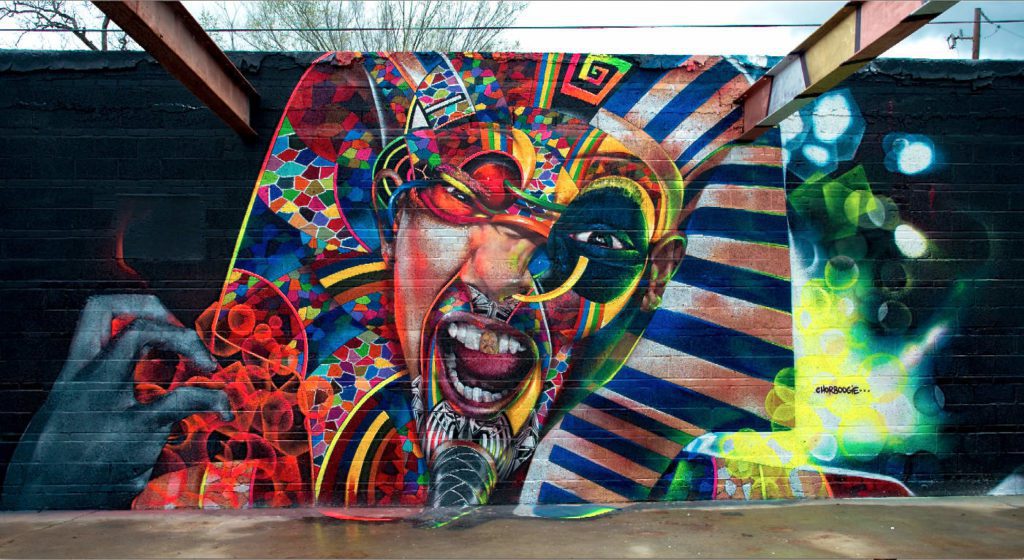 Chor has been creating since the age of five, and spray painting since he was 13. For 23 years he has been working with spray paint, honing his skills, and working towards redefining spray paint as a fine art medium. A completely self taught artist, Chor has worked his way from Oceanside, CA to San Fransisco, and all over the world. His work of art, "The Eyes of the Berlin Wall" sold for $500,000.00, breaking records for the street art genre, and setting a standard for street art as fine art.
Chor is not only breaking down the walls between street art and fine art, he is taking the pieces and transforming them into unbelievable examples of the capabilities of spray paint.
Chor's artwork contains the sense of freedom and expression I am immediately attracted to. His work has layer after layer of bright colors, intertwining shapes, and a mix of graphic art and realism, which seamlessly come together to create images with impact. Simply looking at a picture online I feel enveloped in the color, I can only imagine what it is like to stand in front of one of these massive murals.
All of his work is created with 100% spray paint. His 23 years of experience is evident in the way he handles the material. The crisp lines carefully faded colors, and overall clean look of his artwork is an unbelievable example of how spray paint rivals what any other fine art material can do.
I can feel the expression of his artwork dripping down the lines of the spray paint splatters and seeping through his many layers. I feel like I can breathe looking at his work, it doesn't look tight, stuffy, or overworked. I think part of the sense of freedom has to do with his process. He doesn't spend a lot of time pre-planning. His process is very go-with-the-flow, which is evident through his work and in the way he describes it, "I basically scale everything by eye on a natural feel to keep things a little organic along with years of experience, I have a rendering if I'm doing realistic portraits, but I always add my original flavor to it."
I envy his process. I get too caught up in the pre-planning stages and the little details. I strive to find a way to let loose, and be organic, which is why I am so drawn to what he does.
Recently Chor was commissioned to complete a large-scale mural on the ground floor of the CUBES, a retail development off West 42nd street in New York City. Chor chose to complete large-scale portraits of Michael Jackson and Madonna. The bright patterns pop through the all-glass front of the building. The layered spray paint shines through the more monochromatic, and slightly translucent faces of the two celebrities. The layers intrigued me as soon as I saw the images, and when asked the meaning behind them he simply explained, "everyone has flavor to them, some form of abstract within them, and we are all based upon layers shapes and forms.. that create a whole… as one." Despite our individual level of celebrity, creativity, or exterior differences we are all made up of the same amazing, beautiful shapes.
Future murals have already been planned for the second and third floors of the building, with super hero and film icons lined up to add a little flavor to the currently blank walls. I asked why he chose these themes for the projects and Chor explained, "I know I'm just like these celebrities and superheroes because I put in just as much work, just a different medium and on a different stage… and if the superhero theme mural happens, it's all in relation to superheroes in NYC and the rest of the world.."
I'm excited to see the level of recognition Chor has received for his work. He is taking steps to change the views of spray paint's role as a fine art medium. I hope with his continued success he will bring light to the importance of public works of art, and increase the collaboration between cities and their artists. He finished up our interview with a little advice for up-and-coming artists, "can't stop won't stop… never stop believing… make it or not.. never disrespect your talent .."
A big thanks to Chor Boogie for taking the time to do an interview with me! To read more about his work check out his website here. Thank you for checking out this post and my blog. Help me spread the word about Chor Boogie, street art, and my blog by sharing it with others. I couldn't do it without you! Don't forget to follow me on Instagram and TikTok for weekly visual journal demos. Until next time!
Related Posts