I've said it over and over in my posts, I am incredibly lucky to be at the school I currently teach at. After 3 years of public school teaching, with little to no budget, I am absolutely spoiled at my private school. I have an enormous classroom, a budget that allows me to purchase supplies for interesting and fun projects, and small class sizes.
In addition, we also have a very active parent organization that raises money specifically for the fine arts department. Every year we can put in requests for "wish list" items. These can be things that don't fit into our budget and can range in price from a couple of hundred dollars to thousands. I take advantage of this program every year.
The first year I put in for fused glass supplies, and now have an amazing fused glass studio set up. My second year I considered adding to my glass inventory, adding a brazing project, and other new sculpture-based equipment I could use. After brainstorming in my classroom for a while my gaze drifted out the double doors that lead to my very own "sculpture garden".
The space is wonderful, it is a small patio with a lovely brick wall enclosing it. We have access to a gas line and hose, with a large drain in the center. The pros end there. A former sculpture teacher managed to clog the drain, and every time is rained the patio turned into a small lake. Dead leaves collected into corners, nothing was pretty about it, besides the brick wall.
I made a decision to put my wish list money towards that space. Although I could beef up my program, this space needed it more. It was planned and built to be utilized, and here it was empty and useless. I decided I would turn it into an aesthetically pleasing, functional space.
I asked for two large, green picnic tables, two planter boxes, and one round planter. I requested funds to purchase plants, soil, and hoses. This was going to be an enjoyable place to create artwork.
I was thrilled when I found out I had been approved, and I immediately put in my orders. Throughout the school year things began to slowly roll in. The picnic tables were in place, I finally found time to put together the planter boxes, and Spring was right around the corner. It was the perfect time to purchase my plants and use a very useful resource, my landscape architect husband.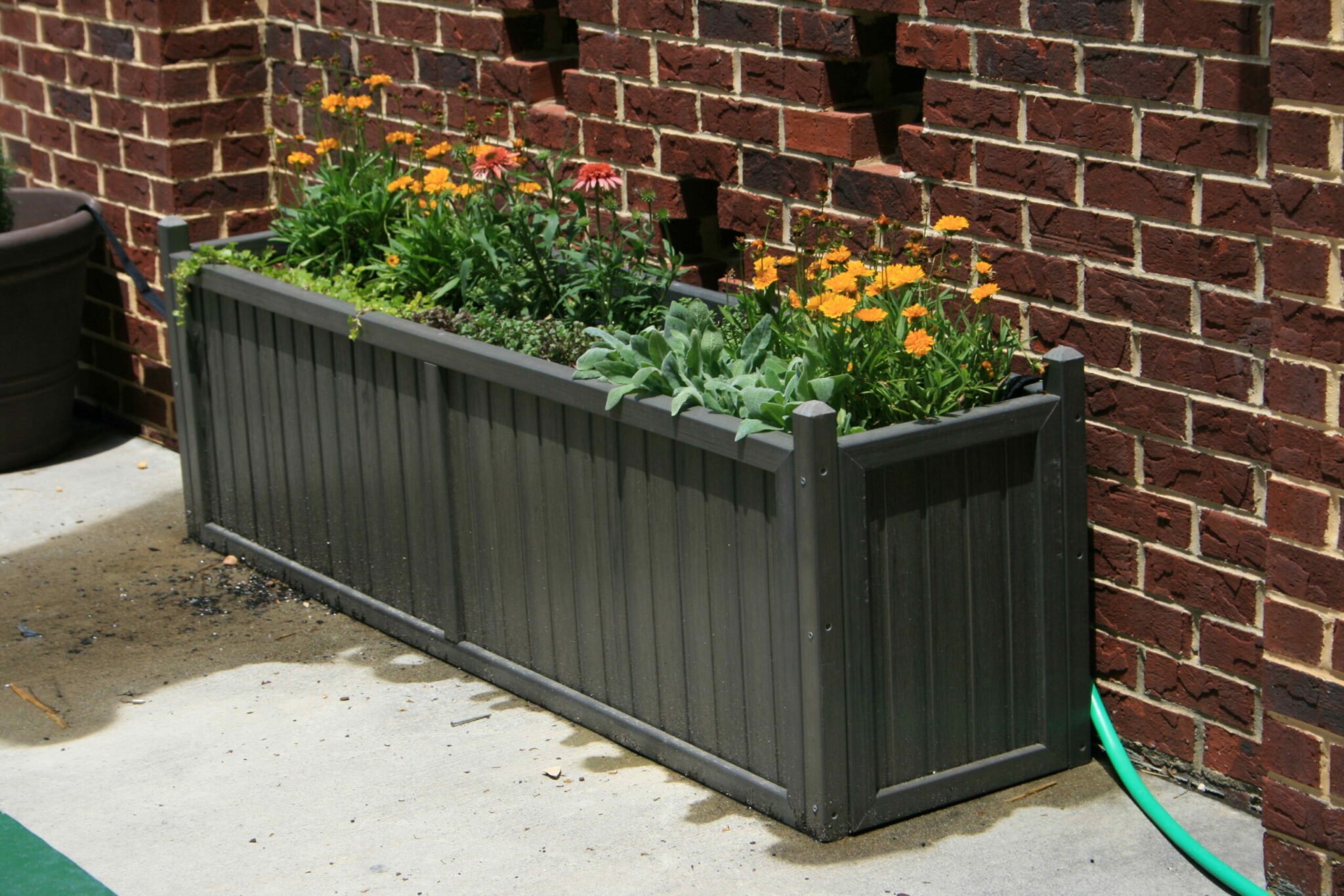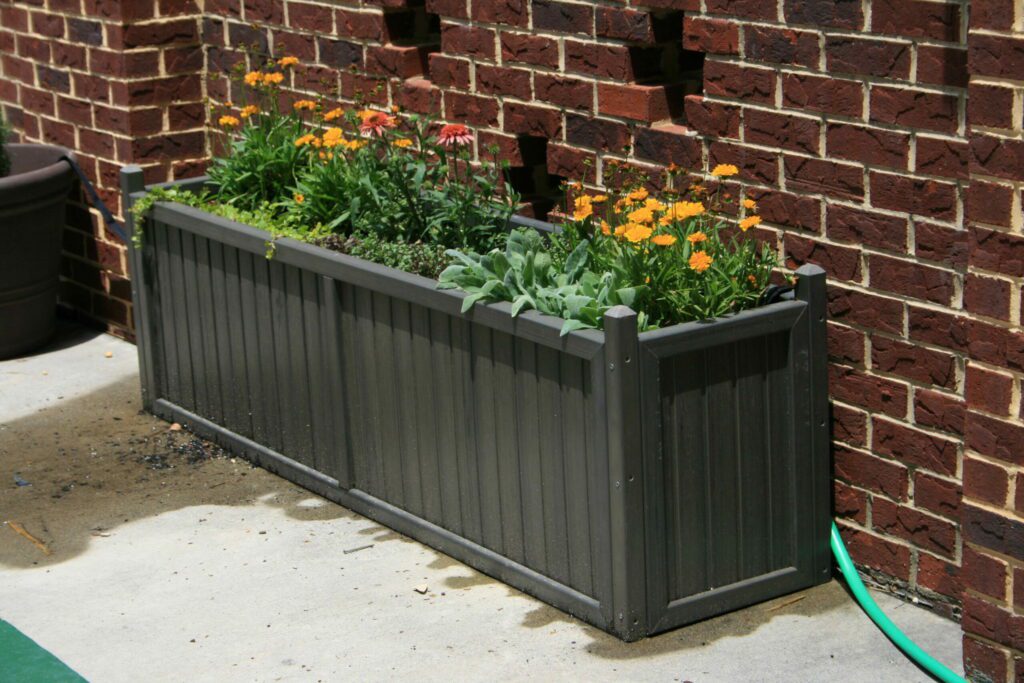 I had a few requirements for my plants. They had to a: be perennials, I didn't want to replant every year, b: look pretty, c: feel good to the touch, and d: smell good. I wanted this space to peak the senses. We strolled around our local Pike's and slowly picked out our plants. We pulled rosemary for the round planter, an amazing smell, as well as some thyme for the large planters. Creeping Jenny was added for the bright green color and ability to quickly fill up space. Lamb's ear came next because it is so fun to touch, along with Dragon's Blood Stonecrop. Last but not least we picked out beautiful purple cone flowers and yellow coreopsis for their lovely blooms.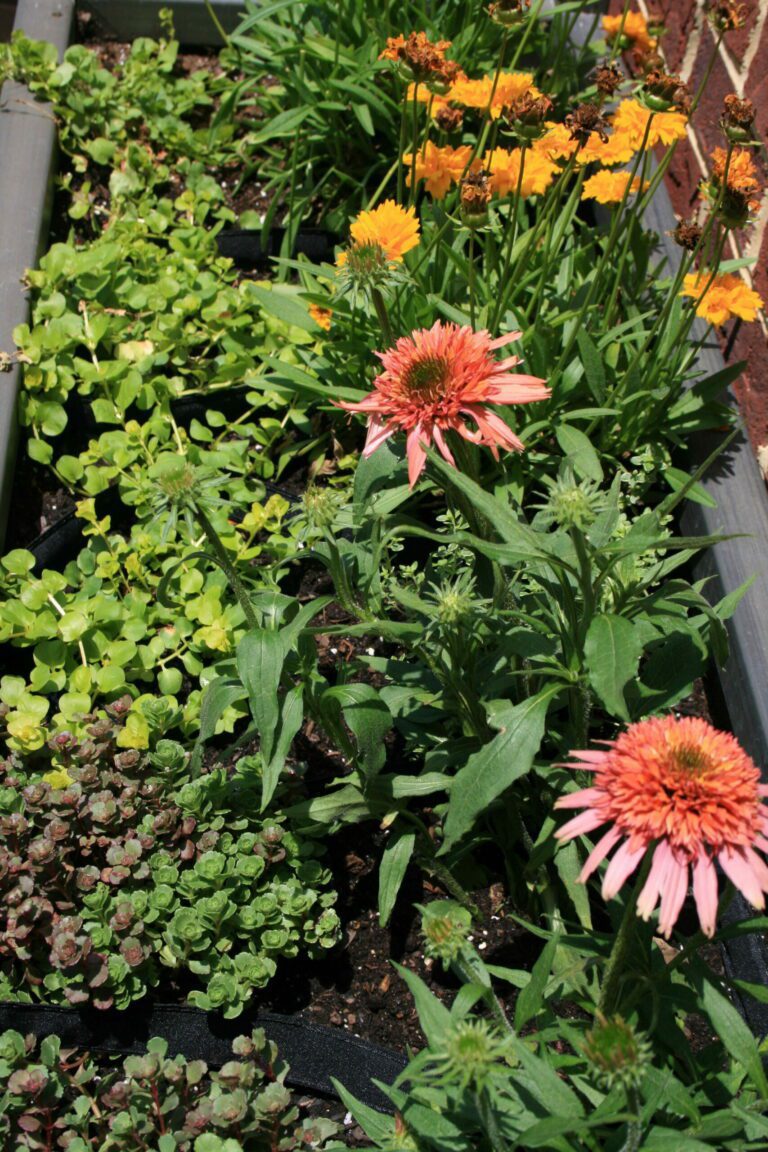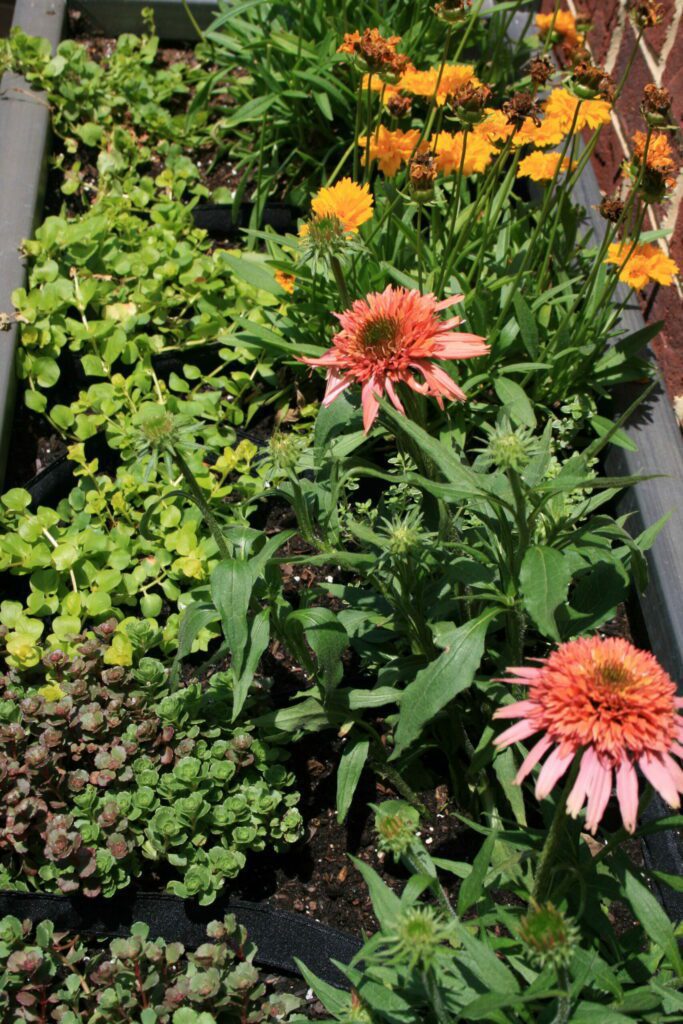 The plants, soil, and river rock were loaded up and moved to my outdoor space. The river rock was added to the bottom of every planter, for better drainage, followed by a mix of potting soil and garden soil. Because I was limited on time to get my plants planted I purchased 10 bags of soil from my local plant store. It would have saved me money to purchase soil by the pound from a place, such as The Green Centre. As I continue to add to my garden I hope to find a local stone and soil yard to save money.
After the soil and stone, the plants went in last. In order to create a worry-free planting I also purchased a hose timer and drip hoses. A normal hose runs from the timer and faucet to a drip hose, which weaves between the plants. Every 3 days the hose automatically turns on, waters the planters, and shuts off.
My space is slowly transforming into a welcoming area. Students have already begun working at the picnic tables on nice days. After my successful first planting, I decided I couldn't stop there. I put in for even more items on next year's wish list, and have already been approved to continue to beautify the space. I just put in for two more rectangle planters, four more round planters, a storage bench (for the straw and hay I use in raku and smoke firings), and a storage shed (for my propane and acetylene tanks).
I can't wait to get the remainder of my "sculpture garden" plans together. I believe with this second order the space will look beautiful and complete. I will continue to post as my outdoor space continues to grow. I can't wait to shop for more smell, feel, and look-good plants. I will be sure to post the plant list as well.
Thanks for taking the time to check out my blog! Help me spread the word by sharing with others. Thanks for stopping by!
Check out more blog posts here. Check out art resources here. Don't forget to follow me on Instagram and TikTok for weekly visual journal demos. Until next time!
Related Posts