I very rarely make art for myself. Typically, I will put together pieces for gifts, or commissions, or they are immediately added to my Etsy shops after their creation. When I began dabbling in the world of fused glass, it was no different. Everything I make goes straight to Crafted Westside, or my Sweet Celadon store. One day, while developing a fused glass lesson for my 3D II class, I decided it was time to be selfish. I was going to make a set of chicken plates all for me.
While touring the annual Stacks Artist and Loft tour in Cabbagetown, Atlanta, GA, I discovered a stained and fused glass artist, Susan McCracken. She had amazing fused glass plates of fish, foxes, and other animal assortments. You could see thin lines where she pieced the background around the forms, to create a two-layer fused piece. Immediately, the wheels began turning in my head, and I decided to make a lesson out of it.
I began experimenting with the process of cutting the background around the object, by making a rooster plate. It was inspired by my then-rooster, Richard Parker, a Rhode Island Red. He has since found a new home, with a lot more land and hens. If you look closely, you can see the thin lines that mark the cut lines.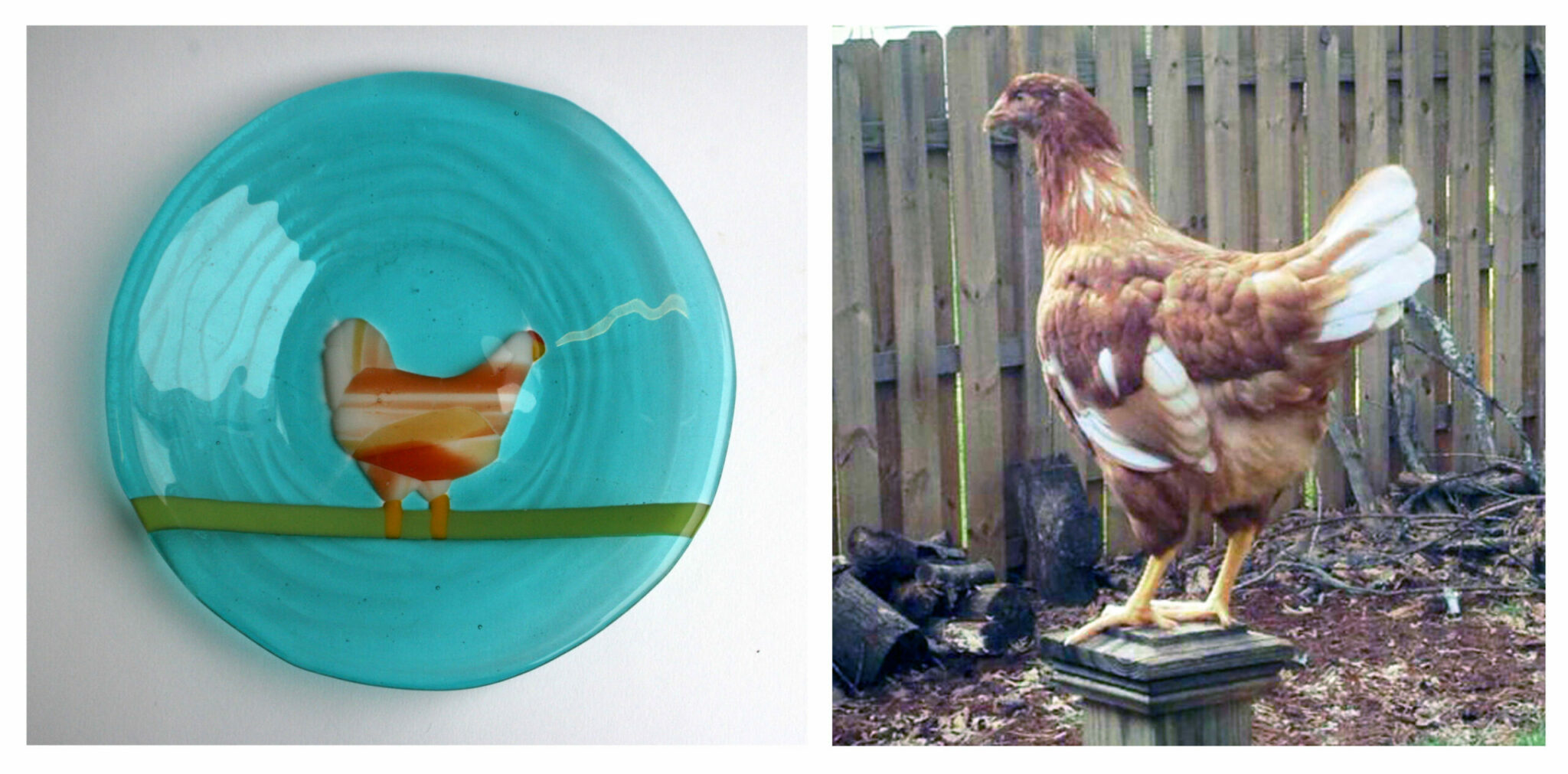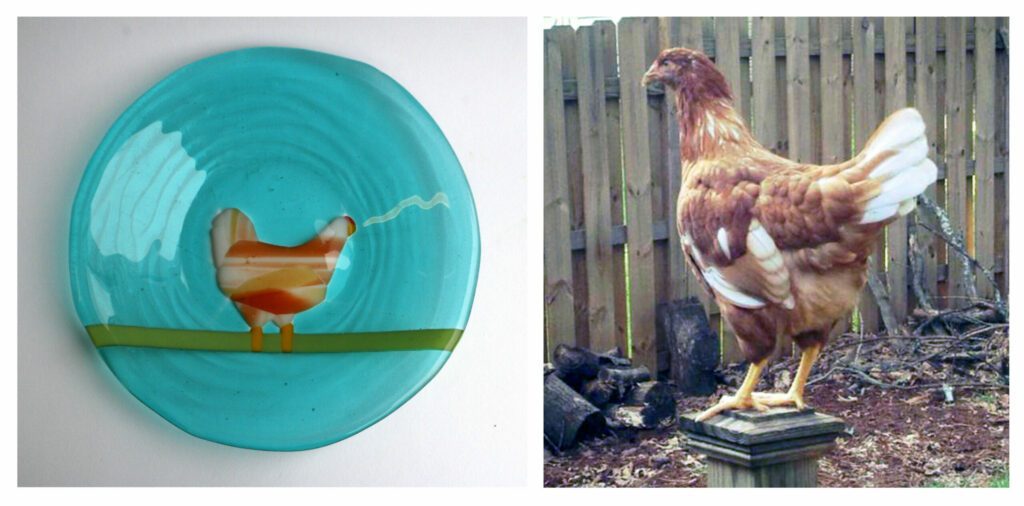 After success with my rooster plate, I decided to make a plate for each of my chickens. It was a great way to hone my glass-fusing skills and decorate my home. After completing Richard Parker, I took on Amy. I bought a sheet of glass with a mix of oranges and yellows, to match her Buff Orpington colors as close as possible.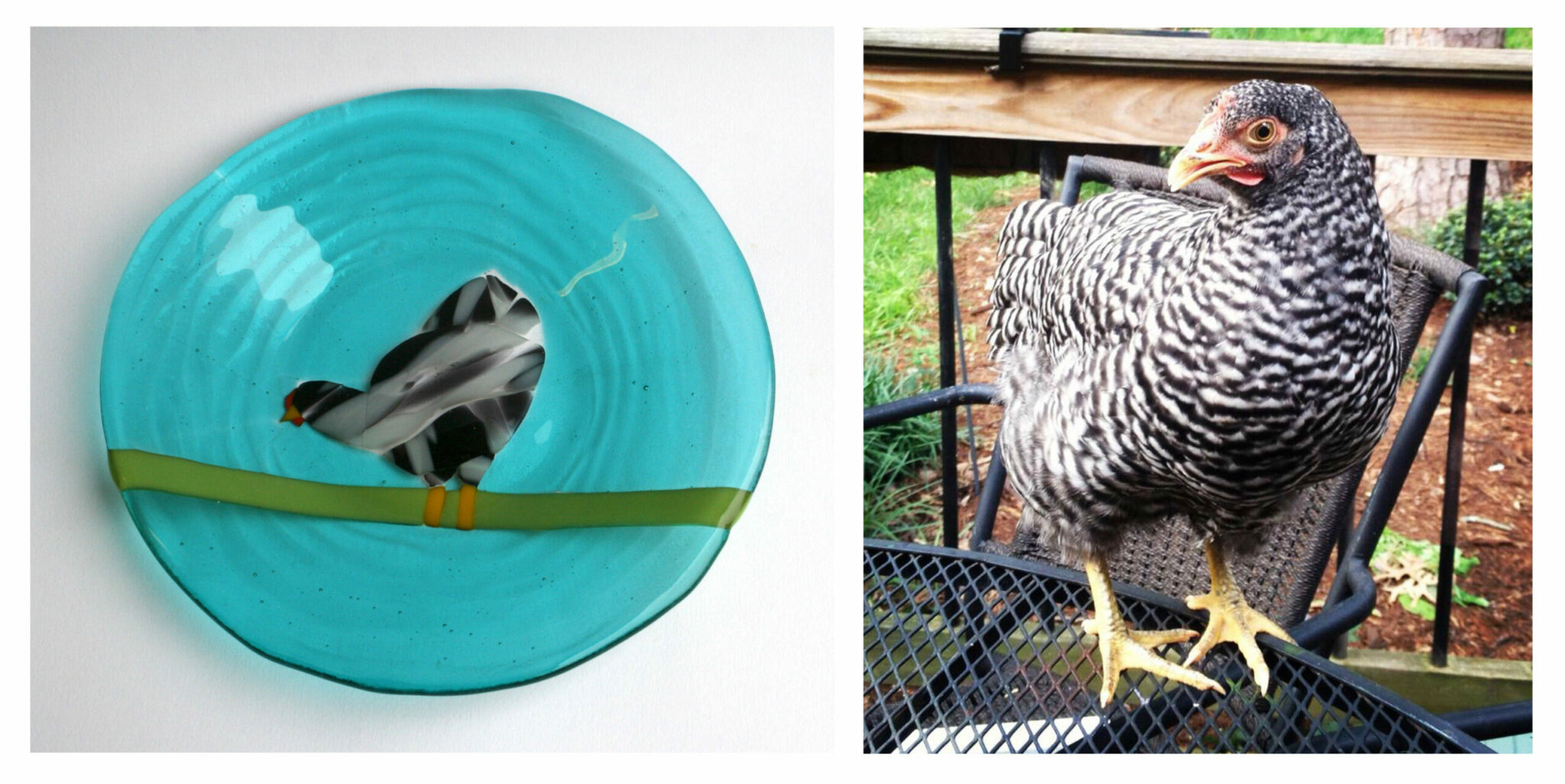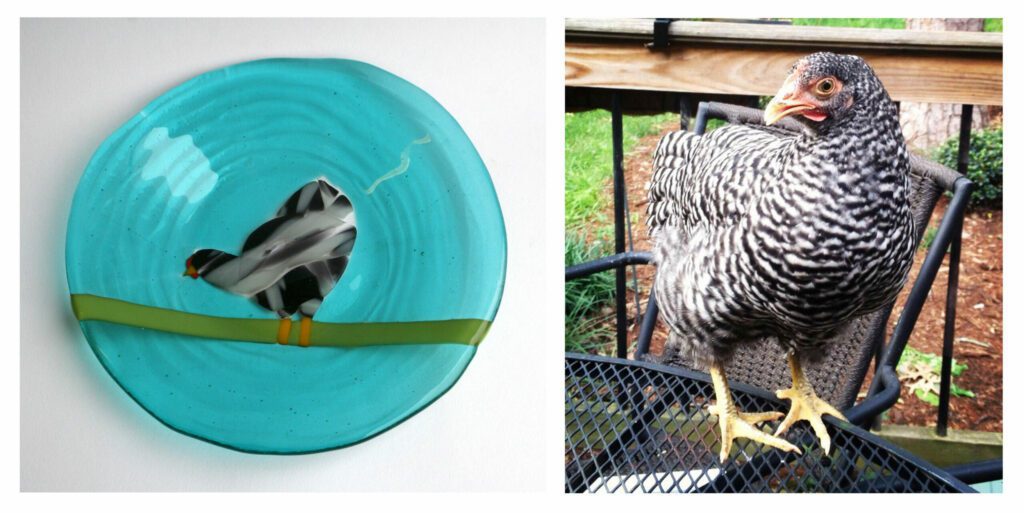 After Amy was complete, I began on Thackary Binks, my Barred Rock. I love her black and white patterning, and I found the perfect glass pattern to mimic it. This plate is my favorite out of the set. I love the movement of the chicken bending over, the pattern turned out just right, and she has so much character (in real life and in the plate).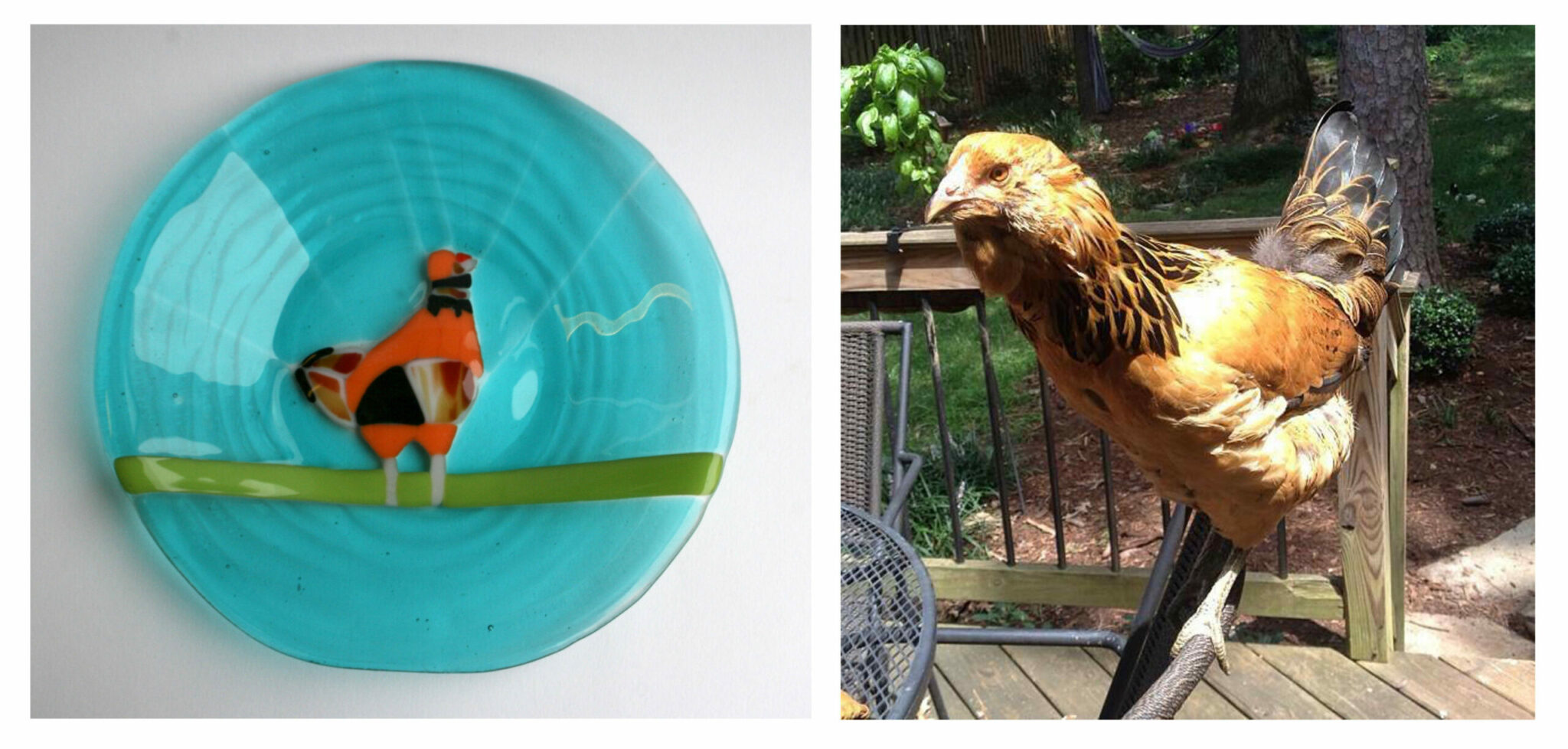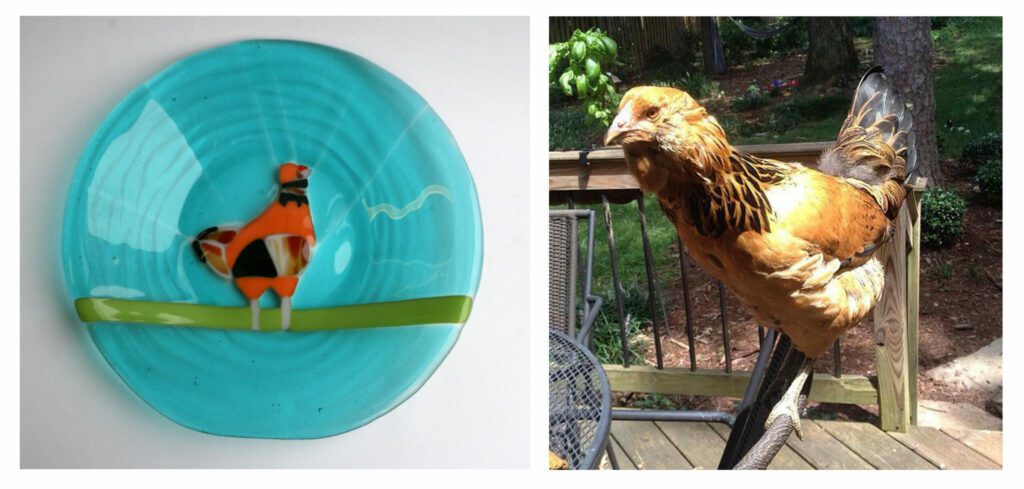 I waited as long as possible to take on Wendall, my Ameraucana. She has the most complicated patterning out of all three chickens, and it took a bit of planning before I could get started. I carefully cut small black triangles, for her black neck, tail, and wing feathers, and intermixed them with orange and the mottled orange glass. While I struggled to piece everything together, I was happy with the end result. I think she looks the least chicken-like of all three plates, but this is my Mom's favorite of the set, which makes me feel better about the end result.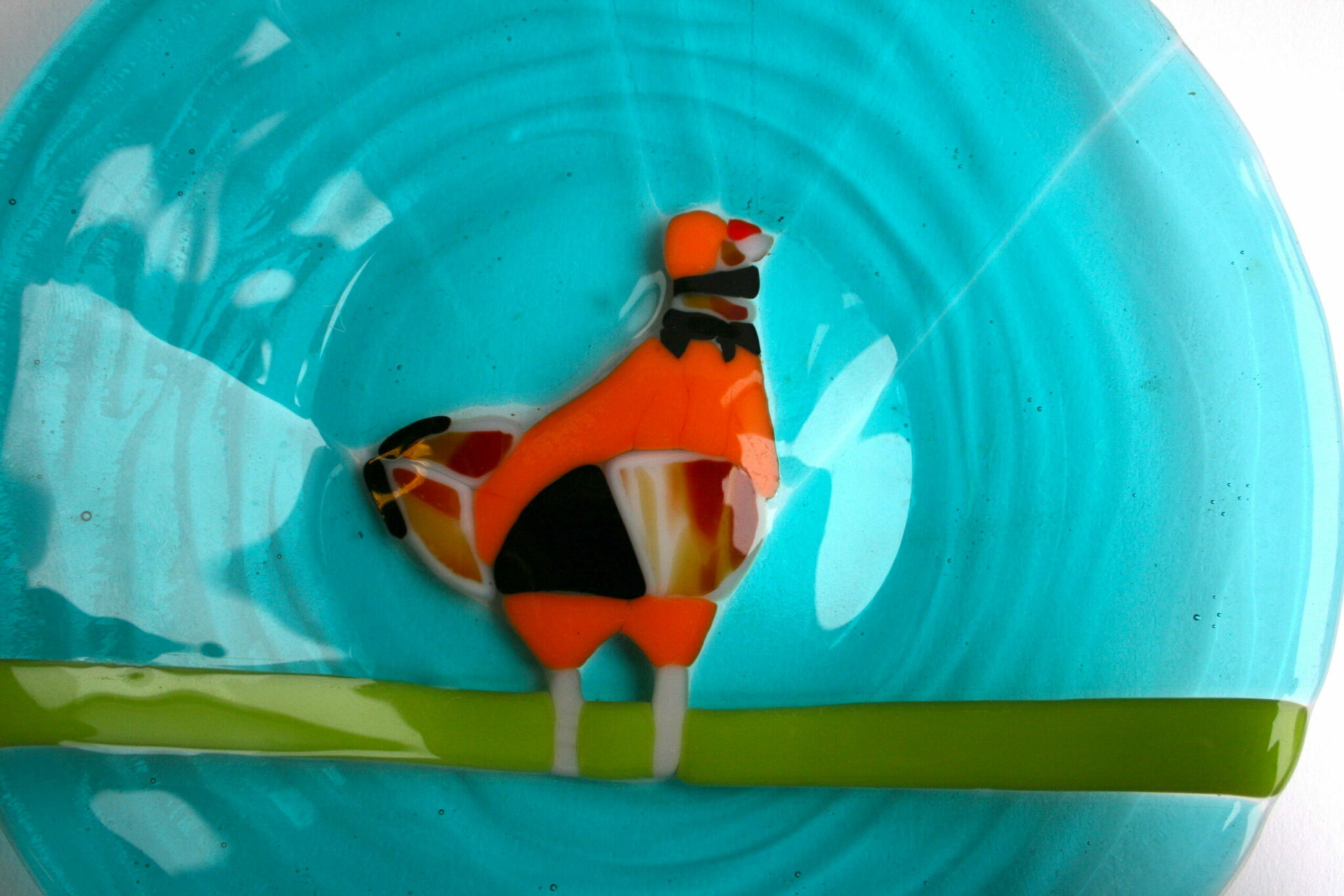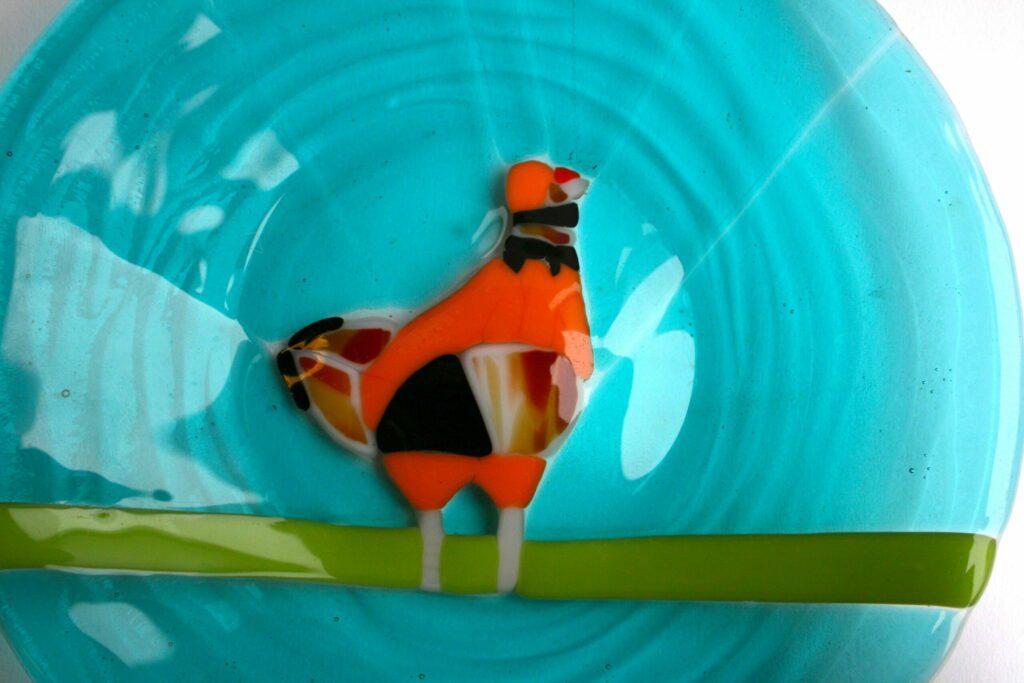 The Wendall plate has the most obvious cut lines showing.
So far, I have taught the glass fusing and piecing lesson two times. Both times the students have been very pleased with the end result. They have created a range of designs from elephants, to sailboats, to under-the-sea scenes. My students love the glass fusing process, and I hope to continue to include it in my lesson plans in the future. Check out my glass fusing set up and lesson plan here.
Thanks for taking the time to check out my blog! Help me spread the word by sharing with others. Check out more visual journal blog posts here. Don't forget to follow me on Instagram and TikTok for weekly visual journal demos. Until next time!
Related Posts