A couple of months ago I posted about a student's reinterpretation of my pieces, "Caged" and "Trapped". I was incredibly flattered as an artist and high school art teacher that she chose me to study for her high school art project. I answered a few questions about myself and my artwork, and asked only that she send me an update with pictures when her piece was complete. As soon as her e-mail came through I couldn't help bragging on her (and myself) by sharing it on my blog (check it out here).
Shortly after I was contacted by Amy I received an e-mail from another student, Alice, regarding her high school art project: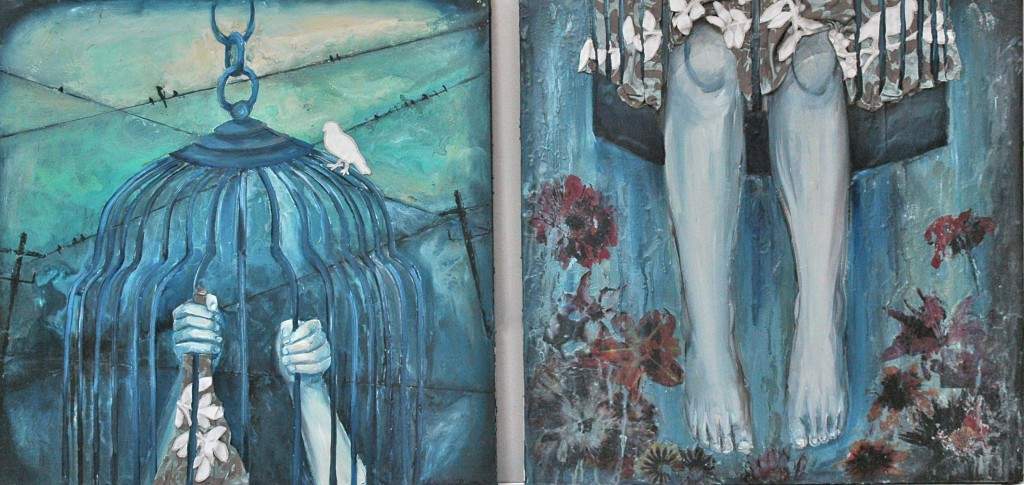 "Hello, my name is Alice. At the moment I'm doing my GCSE art, and my chosen topic is caged. So that is how I found ur very unique and quirky art, "Caged" and "Trapped". Which I can honestly say I love, with the tones of blues used. At the moment we are branching out our ideas by looking at other artists, so I chose u as an artist. However, while looking at ur website, I found no information about u, would it be okay if u could please allow me to have some information about ur education, and why u really become inspired by art and interested in many different types of craft art. Thank you very much for reading."
I couldn't believe it, once again I was being interviewed, studied, and presented by a student. I excitedly answered her questions about my background, making me realize I really need to include an artist bio/statement on my blog, and once again I asked if she could send me images of her final project. As spring semester came and went, followed quickly by summer, Alice's project was pushed to the back corners of my brain, until last week when I received an e-mail with photo attachments:
"Hello, you probably don't remember me but I e-mailed you late January time explaining that I had took GCSE art and my chosen topic was caged. I
promised myself then and there, that I would e-mail you once I had got my results for my GCSE art. This was because you were such a key influence in how I explored the topic and how I made it my own. I become quite obsessed with blues and mixed media, and am still obsessed with it now, after your piece "Caged" and "Trapped" (which I love so much). So I would like to say thank you, for being such an inspiration for me. And also, I managed to get an A* in my art, which I'm rather chuffed with (A* is the top grade). I have also attached some photos, I'm afraid I never photographed my final exam piece, of trapped, but have added some of my own pieces that I did and my final exam piece which is the artwork with a hand holding a vulnerable child. But to end this e-mail, I'd like to say again, just thank you very much."
I absolutely love seeing how my work can influence someone else, it's incredibly flattering for someone to use the words "inspirational" and influential" about me. Moments like this make me feel like a true artist, rather than a weekend creator and afternoon blogger.
In addition to boosting my ego I also love seeing what assignments students are doing in other art classes, especially in other countries. I enjoyed seeing her sketchbook about my artwork as well as other assignments she completed in and out of class. Based on her sketchbook assignments, I am very impressed with the amount of planning and prep that goes into each project. Alice is obviously a talented young artist and I hope she keep sup the good work! She just might have inspired me to have my students research and contact their favorite artists to see if they can also make someone's day.
Thanks for taking the time to read my post! Help me spread the word by sharing with others, I can't do it without you! Thanks for stopping by!
[subscribe2]
Related Posts