I'm very excited, after a very long break, to once again host a giveaway of my own items! With the holiday season quickly approaching I decided it was a great time to highlight two items that could make great, personalized gifts this season.
In my Etsy shop I have a wide range of items, but some of my favorite things I create are the personalized letters and silhouette encaustic paintings. I love giving people the opportunity to take something, and make it their own, turn it into the perfect fit for a gift to a loved one, or even yourself.
Both the personalized house and map mixed media pieces are a great way to give a gift that someone will appreciate and treasure, because it has that personal touch. I was so excited when these turned out just the way I imagined, and couldn't wait to put them up on Etsy. However, the one downside is the amount of time needed in order to create and ship each piece. I require at least 2 weeks to make your piece, from start to finish, and ship it. It may take 3 days to a week to arrive once it has been shipped (shipping times may vary). With the holidays rapidly appearing on the horizon, I hope these pieces will still be a gift option in the coming weeks.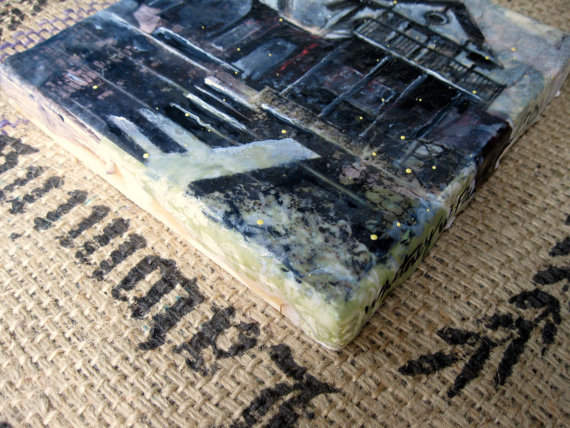 The house encaustic, mixed media painting was a piece I did a few months ago, of the duplex apartment I lived in when I first moved to Atlanta. I loved the early 1900's house, and all the charm it brought, and felt the feel of the house was capture in the encaustic painting, collage. I have plans to re-create each house I live in as my husband and I expand our living quarters, our family, and experience new places. I can visualize a grid pattern on our wall of all our beloved homes.
I love this concept because a home is incredibly important. A home is so much more than a roof over your head, it's love, comfort, and memories.  I hope everyone has a home they fondly remember, the home they grew up in, Grandma's house they used to visit, or the house they bought as newlyweds and had their first child in.
To create your own home painting all you have to do is send me a picture of the home you wish to memorialize in your encaustic collage.  I will take your picture, turn it into a silhouette, transfer it on top of my encaustic wax and pattern paper, and add details back with oil paint. After it has dried it will be wrapped up and sent off to you.
A 6″x6″ personalized home is one option for this giveaway!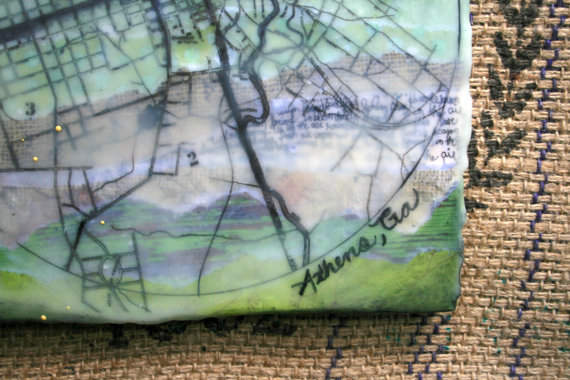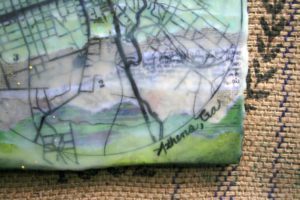 Another option for this giveaway is a personalized map encaustic collage. As a University of Georgia graduate, and resident of Athens, GA for 5 wonderful years, re-creating a map of Athens was an easy choice. I love the pattern the intersecting roads create. This is a more abstract option, yet just as personalized and important as the house paintings.
I love the cities I have had the opportunity to live in. Each place has it's own unique characteristics and charm. I loved the familiarity and safety of Roswell, the cool, artsy feel of Athens, and the small town, yet big city feel of Atlanta. The city you live in is almost as important as your home. It's where you make your friends, begin laying down roots, and create new experiences.
To create your own map piece all you have to do is send me the city and state of the map you would like recreated and I will take it from there! I will research a suitable map, simplify it in photoshop, transfer it on top of my encaustic wax and pattern paper, and add details back with oil paint. After it has dried it will be wrapped up and sent off to you.
A 6″x6″ personalized map is another option for this giveaway!
To enter this giveaway all you have to do is visit my Etsy shop here and like my shop! Comment below with the name you liked my shop under and tell me which item you want to win. For a second entry like your favorite item and comment below with a link to the item you liked. For a third entry share this post on facebook or twitter, comment below with a link to your share! To ensure you are entered 3 separate times, make sure you comment three separate times!
Next Tuesday, 11/26/13 I will randomly selected one winner using the plugin, "And the Winner Is…". The winner will be notified via e-mail, and will have the opportunity to select which encaustic mixed media piece they would like created. If the winner does not respond in 24 hours a new winner will be selected.
Remember, the holiday season is almost upon us! Help support local and handmade and check out your local artisans or Etsy shops for a variety of handmade. If you love one of my pieces make sure you allow 2 weeks for a personalized piece to be made and 1 week for shipping. To ensure delivery by Christmas order everything 2 weeks before Christmas day.
Thanks for checking out my blog, participating in my giveaway, and supporting handmade! With your help maybe one day I can also quit my day job and focus on selling out of my shop. Help me spread the word about my blog and this post by sharing, e-mailing, liking, tweeting, digging, tumbling, or another social media outlet of your choice. Thanks for stopping by!
[subscribe2]
Related Posts