With three arts and crafts festivals, a donation to a benefit, my artwork at Crafted Westside full time, and my actual full time job, teaching, I decided I didn't have enough to do in the month of November. To help alleviate my boredom, and I think in a moment of madness on my part, I decided to jump on board with a pop up shop through Crafted Westside at the adorable Westside Provisions, next to J. Crew and behind Yeah! Burger.
The pop up shop will run this Friday, November 21st, through December 24th. It is an amazing opportunity to check out the talented artists at Crafted Westside, at a new location. Despite having moments of feeling overwhelmed, I am excited to be a part of the venture with Crafted. It will help the artists and store gain exposure, and provide yet another space for holiday shopping.
At the shop I will have items available both at the pop up shop and Crafted, as well as a few new additions only available at the pop up. Check out my pottery below, and don't forget to check out the shop, located at 1100 Howell Mill Road, Atlanta, GA 30318.

My "joe" mugs will be at the pop up shop as well as Crafted Westside. At the pop up shop I will have them in blue and green, check out Crafted for a wider variety of glaze colors.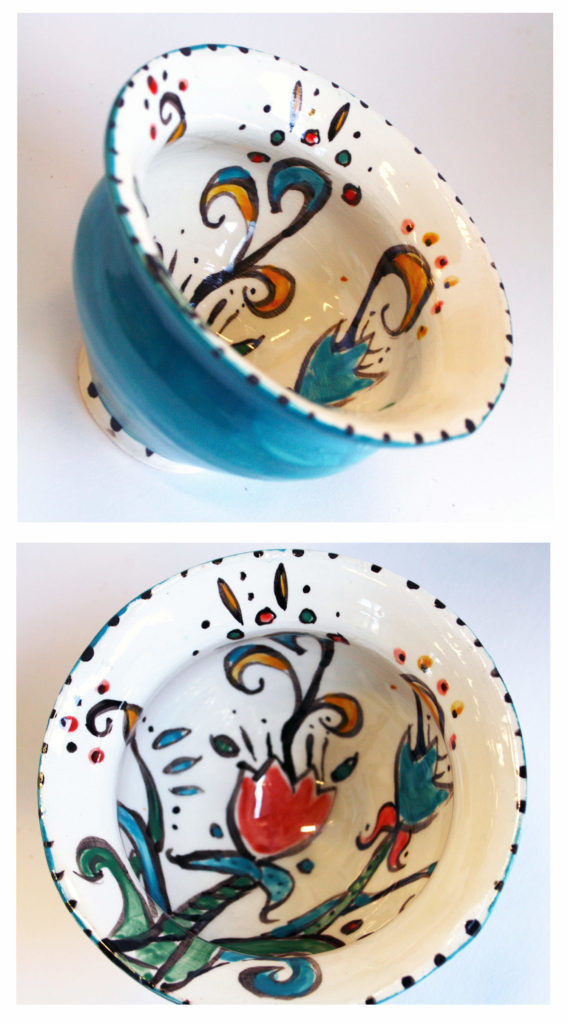 I used to do playful patterns using underglaze, but set the techniques aside to try new things. I had an extra bowl laying around, and decided to try my hand at whimsical patterns once again. A few more additions in a similar style may be coming soon!

I love decorating my larger, wheel thrown bowls with clay flowers. This bowl is covered in clay hydrangeas, and is glazed with beautiful blue/green and celadon glazes.
My doily bowls will be making an appearance at Crafted Westside and the pop up shop. A serving bowl and three matching cereal/soup bowls are available at the pop up. A wider variety of options are available at Crafted.
My flower mugs will also be available at both Crafted and the pop up shop. A wider variety of color options are available at both!
I am finally trying my hand at slip casting, and my first completed pieces are these wheel thrown bowls, decorated with slip cast pieces. Leaves, flowers, parts of squids, and jellyfish decorate the rims of these bright colored bowls
In addition to my pottery, I will also have my matted letter prints available at both Crafted and the pop up. At only $15.00 each, they are an easy, personalized gift to grab.
Thanks for taking the time to check out my blog! Help me spread the word by sharing with others through the many social networking sites listed below. I couldn't do it without you. Thanks for stopping by!
[subscribe2]
Related Posts