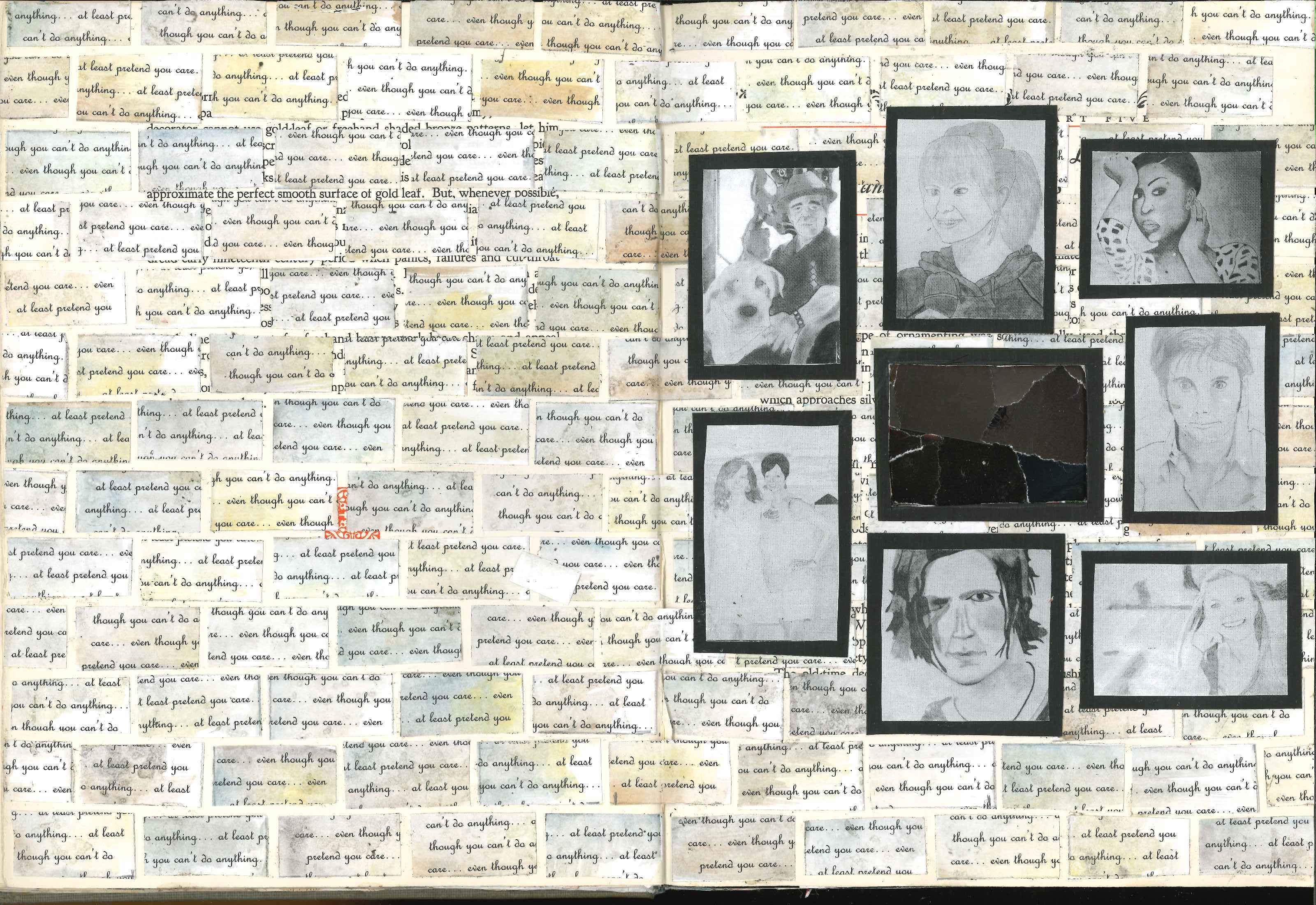 During this period in my life, my visual journal pages often focused on my discontent with the school I was teaching at. After three years, I felt like I was becoming a bit jaded. I didn't feel like the art program was recognized as an important part of a well rounded education. I rarely saw my administrators. I would show up for work, do my job, and felt like no one really cared if I was there or what I was doing.
Although my administrators let me down over the years, my students rarely did. I did not like my enormous class sizes (35 students per Introduction to Art class), but I loved all of my students. I especially loved my Intro to Art course, because many of the students signed up to check the "fine arts credit" box in order to graduate from high school, but many of them ended up loving, or at least having an appreciation for, art. There is something incredibly special about seeing the moment that it clicks for a student. They find the subject matter or material they like best, they feel encouraged by the way their artwork is developing, and they suddenly put in the time and effort to their project because they truly care about it.
With 35 students per class, it was nearly impossible for me to display every project for every student in the school. Instead, I would select the top examples from the class. Although this may have singled out some, I felt it gave recognition to the students who worked for it and deserved it.
Every year, one of the major  projects my students create is a portrait drawing of their personal hero. It can be a celebrity, family member, politician, the choice is theirs. Every year, many of the students are overwhelmed by the prospect of having to draw a person realistically, but every year I am blown away by the results. This year was proving to be no different, and I selected 8 drawings to display outside of the school library.
The following day, one of the students whose work was displayed came into class with a concerned look on his face. His drawing was no longer hanging in the hall. I assumed it had fallen off the wall, had been picked up by a teacher, and taken to a safe place. But after trying to track it down, I began to realize someone had taken it. This student had worked incredibly hard on this piece. He was so proud of the end result, his work was selected to be displayed, and instead of creating a sense of pride, he was let down. His artwork was gone.
I immediately went to my administrators. Items were stolen regularly, the school had cameras, they could often track things down. But instead of finding help and encouragement I was told there wasn't anything they could do. There was no point in screening the cameras, it seemed like they didn't even care.
I felt completely helpless. I had a devastated student, an unsupportive administration, and an unfair theft. I was fed up but I could do nothing about it. My sweet student accepted the fact that his drawing was not coming back, and he moved on. But I know how much he cared.
Even if you can't do anything… at least pretend you care…
SUPPLIES
Visual journal
Scissors
Printed pages with text
Watercolor paint
Brushes
Salt
Printed images
Black paper
Magazines
Rubber cement
Xacto knife
HOW TO
When I began working on this visual journal page, I decided fairly early on to create two spreads that tied together through a cut out. That would show two sides of the story. the missing artwork and my ever growing discontent with my administrators.
I started with the artwork display. I printed out a few sheets of paper with the text "even if you can't do anything… at least pretend you care…" I then added a hint of color using watercolor. While the watercolor was still wet on the paper, I sprinkled some salt on top. The salt absorbs the water, which pulls the watercolor pigment around the salt grains. After the paper dries, you wipe the salt off, and it leaves a speckled pattern. This was done in an effort to create a cinderblock look. I then cut up the paper into rectangles and glued them into my book, leaving a small space between each "cinderblock."
Next, I printed the actual artwork that was on display. I cut them out, glued them to a black sheet of paper, then cut them out again leaving a thin black edge around the artwork. This mimicked the look of mounted drawings. I placed the artwork in the same formation as the display, leaving a blank black rectangle for the one that went missing. I then used an Xacto knife to cut out the rectangle to tie to the next page.
On the next page, I decided to create a very dark look. I found magazine pages with black and grays and ripped them up into smaller pieces. I then glued the pieces down, going from dark on the left page to light on the right page, using rubber cement.
I then printed a larger version of the text, "even though you can't do anything… at least pretend you care…" I did the same watercolor and salt treatment to the paper, then cut it into a strip once it dried. I glued the text to the page so the "at least pretend you care" text overlapped the lightest section of the background.
Interested in teaching visual journals to your students? Check out my visual journal lesson plan here and bundle pack here.
CHALLENGE
Create a visual journal page that utilized two spreads in your book (a spread is two facing pages).
Need more inspiration? Check out cut out pages about book oddities, furniture, and fortune cookies.
Thanks for taking the time to check out my blog! Help me spread the work about visual journals, art, and crafts by sharing on your social media website of choice. Thanks for stopping by!
Related Posts